Sales Have Ended
Registrations are closed
Thank you for booking your ticket. You do not need to bring this ticket with you when you attend the event.
Sales Have Ended
Registrations are closed
Thank you for booking your ticket. You do not need to bring this ticket with you when you attend the event.
About this Event
We're hosting the ALL-NEW FORD KUGA event from the 13th to the 19th of July where you'll be able to attend our dealership with any questions you may have for our stunning ALL-NEW KUGA range. As far as launching new car ranges go, the FORD KUGA is a particularly diverse and high-tech vehicle, and will eventually include 5 fuel options in total: Ecoboost Petrol, Ecoblue Diesel, Full Hybrid (HEV), Mild Hybrid (MHEV) and Plug-in Hybrid (PHEV). The NEW FORD KUGA truly is "the most electrified ford ever".
During the event at Right Car Beverley we will be showcasing both the KUGA Diesel and the KUGA Hybrid PHEV in our showroom. Alongside best in-class leg room and best-in class rear storage ratings the ALL-NEW FORD KUGA has a much improved aerodynamic design than the previous model, with truly outstanding handling when driving.
When you arrive, the first thing you'll notice is the completely overhauled design and how different the ALL-NEW KUGA looks compared to its predecessor. The re-design has delivered a variety of different benefits without sacrificing the commanding size and power of the previous model. In fact, you probably won't realise how big the ALL-NEW FORD KUGA is until you actually see it up-close in person. It is a strong contender for a table topping SUV.
As well as having the opportunity to have all your questions answered at our event you can also have a guided, personal vehicle walk around where we'll go through the finer details and all of the benefits this fantastic new car provides. We can also discuss which type of fuel options or alternatives most suit your driving habits and which type you'd benefit from the most, effectively planning the most cost effective KUGA for you in terms of your daily running costs.
CO2 reduction has been the focus in designing the ALL-NEW FORD KUGA, with up to 30% improvements on the older model in fuel economy. In fact, purely driving in electric mode can reduce your daily running costs; fuel costs up to 60%! The 'green' variations of the ALL-NEW KUGA will pleasantly surprise you, particularly when it comes to cost… Usually you would pay much more for an electric engine in any make or model of car, but the ALL-NEW FORD KUGA hybrid options are surprisingly low in cost when compared to the diesel version. This means it doesn't cost thousands and thousands more to make the switch to electric in a cutting edge brand new SUV.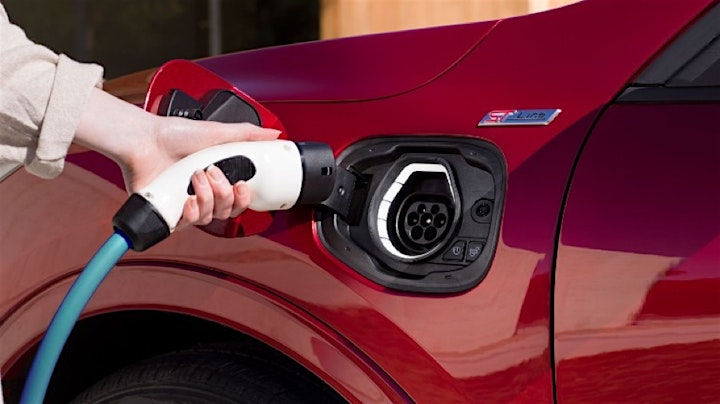 Unlike most electric/hybrid cars the ALL-NEW FORD KUGA comes with two charge cords 'home' and 'public', meaning you don't NEED to have a wall box fitted to charge it at home. This also provides versatility when you want to charge your KUGA at public charging stations.
As well as being loaded with the latest tech such as the wireless charging pads, collision mitigation and front and rear parking sensors to name but a few, the interior has a human-centric design making the ALL-NEW FORD KUGA more spacious than the previous model whilst emitting an accommodating and inviting feel.
Another plus are the new Ford Pass EV features on the Ford Pass App. You can download this application for your device(s) when you purchase an ALL-NEW FORD KUGA, giving you all the information you need in the palm of your hand, including the ability to remotely pre-heat your ALL-NEW KUGA before you set off on your commute in the morning!
If you're thinking about buying the ALL-NEW FORD KUGA, or if you're thinking the time is right for you to make the switch to Hybrid technology, we encourage you to come down to Right Car Beverley and speak to one of our Ford specialists to give you all the information you need to make the best decision for you.
Thousands of 1st Edition KUGAs have already been contracted nationally, so come and see why it's so worth joining the club for yourself at Right Car Ford Beverley.