About this Event
Come and enjoy a unique journey. Allow yourself to be surrounded by the Universal energy of pure love in the form of the soothing, gentle sound of the gongs, giving your body the opportunity to enter a deep state of relaxation.
The vibrations will wash over you, unblocking, cleansing and freeing you from the stresses and strains of everyday life.
It's been challenging year for many of us. Tiredness, heavy energy, unwanted patterns and limitations will be shifted during The Gong Puja - All Night Gong Bath by Accredited Gong Master Teacher , Spiritual Healer Jarek Dzwigol and Gong Master Krzysztof Bubel.
We will play continuously for 7.5 hours to open the gate to 2020 allowing the flow of happiness, good health, well-being & rejuvenation surround you within the uplifting vibrations of the Gongs.
Book your space and spend a powerful healing night with like-minded people.
Invest in your future. All Night Gong Bath may help you
- relieve stress & anxiety
- heal your life, body, mind & soul
- help with pain and aches
- reduce swelling
- improve insomnia
- calm chronic fatigue
- heal body cells
- improve your life
- energetically end a major chapter of your life and open the new beginning
- shift your energy
- repair your aura
- break old patterns
- free yourself from old programs
- boost your well-being and happiness
- release anything no longer serving your higher good from this year
- focus & improve the quality of your life
- awaken your spirituality
- karma cleansing
The healing power of the sound will take you to a place beyond the realms of time and space, free from limitation.
Something will die allowing space for something new to be born in the light.
During the Puja, you will lie down, meditate and sleep, or you may choose to stay awake or drift in and out of sleep throughout the night as the sound of the gongs gently wash over you.
We invite you to join us between 9.15-9.30pm, come with an open heart and smile, ready to join the Puja and together create a beautiful, loving, sharing experience.
The Gong Puja will start at 10.00pm.
The Gong Puja Night will finish with Shunia.
"Shunia means zero, the moment you become zero, then all powers will prevail through you"- Yogi Bhajan
Please bring an organic, vegetarian breakfast to share after the Puja. Hot drinks and snacks will be provided.
Venue:
21st March 2020 , Friday at 9.30pm- 7am
Institute Road
Westcott
Dorking RH4 3NP
Our venue for this Puja is a nice and cosy place.Free car park. Access to the toilet. Disabled friendly.
WHAT TO BRING:
Dress in loose, comfortable clothing (preferably white). Bring your sleeping bag or duvet, pillow and a foam mattress (might be similar to camping) for one person - whatever you need to be comfortable and WARM on the floor.
Bring an organic, vegetarian food made with love to eat in the morning if you wish to.
Please arrive between 9.15-9.30pm.
To allow all of our guests the enjoyment and relaxation, we respectfully advise everyone to arrive earlier and stay calm and silent during the night gong bath.
Door will be closed promptly at 9.55pm. Late-comers will not be allowed in once the event is underway!
BOOKING:
Please book in advance as space is very limited and we sold out very rapidly last time.
The option to Pay on the Door will require an additional admin fee of £5 and will be possible only in the event that there are any free places available.
Tickets are selling fast! Missed out on tickets to All Night Gong Bath (The Gong Puja) by B&J check our website, please.
If you have any questions, contact Jarek directly: 07935 651585 or check www.ifeelgoodtherapy.com, or www.okidesoul.co.uk, please.
CANCELATION POLICY:
Tickets must be booked in advance through I Feel Good Therapy Clinic online. By purchasing a ticket you accept these Terms. Tickets cannot be exchanged or refunded unless the event is canceled by I Feel Good Therapy Clinic, but you are welcome to transfer your place to another person.
If the event is cancelled we will organise a transfer of funds to you between 14-21 days from the date of the event.
TESTIMONIALS:
"I just wanted to write to thank you for what you gave us on Saturday night through your playing. I was nervous and out of my comfort zone coming, but you naturally made me feel at ease. I have a lot of stress in my life right now and I was amazed at how emotionally stronger I felt on Sunday. I actually had a day at university on Sunday - I had been worried I would be tired but I was energised and had a very positive day. Thank you to the 3 of you for choosing to spend your time to help others". Lauren
"This All Night Gong Bath – The Puja practice immersed you into the gentle sound of gongs, the vibration of which wash over you, unblocking, cleansing and freeing you from the stresses and strains of everyday life. The first one was incredible, yet challenging .Th second one was magical, filled with so much love .Abundance of love. Kept moving through the night, catching myself with sweetness that I've kept placing my hand on the heart as if I wanted to reassure the physical body, of what the subtle body was conveying. The experience did not felt like a dream but a reality, just in a different dimension. Waking up with no thoughts just pure love towards someone with no demands, no expectation but understanding is the highest energy I've ever felt in my life. So my dear ones, even if you lost someone who is not among us, even if you are far away from anyone you sincerely love family, friends, partners, teachers, pets, mentor, even if are not speaking to the one you love the way you used to every day, isn't it simply comforting and soothing to know that once you close your eyes and connect to your precious heart, you can be with them and you can send them all the love you have, wishing them well, whispering softly l all sorts of secrets. How powerful this is? Because even if you are not next to them right now, you are. Simply trust the universe to pass onto the message". Vicky
"Attending my first puja all night gong bath - what can I say it was a feeling of PUJA:oneness,togetherness and bliss. I remember thinking when I came around in the morning - what happened, I know something happened but unsure what. I remember getting on the floor on two yoga mats with my friends sleeping bag watching the gongs and the players then I was gong literally another zone, dimension I have no idea all I know is I felt peace and then had a few very peaceful weeks after it" Ms Catherine Odita MBE xxx
"After the Puja I felt being drained out of energy and quite out of place. However shortly after I felt a new type of energy enters my body and being uplifted emotionally and physically.
During the night while the Puja was played I had vivid dreams in full color and they were dreams of such magnitude and power. Some of those dreams were for seeing my future and future of the world. AfterPuja my life becomes more focused and somehow easier then regularly. I am stronger and coping better with stress and little life knocks. I highly recommend Puja to everybody as this is life changing experience. Too difficult to explain, you have to see for yourself". J.D.
HISTORY OF THE GONG PUJA CREATION
THE REAL STORY OF the 45-minute Gong Bath & the 10 linked together in THE ALL - NIGHT GONG PUJA.
"It was in 1972 while in my 2nd year as founding director of the Nanak Dwara Teacher Training Ashram in Phoenix Arizona that Yogi Bhajan asked me to take care of his older son Rambir while he was going to high school in Phoenix.
Yogiji then told me that Rambir wouldn't talk when he was a young child. So, he gave him a 45-minute full out gonging, and then happily afterward he would never stop talking.
Yogiji then confided to me that a minimum of ten 45-minute full gong tone immersions in a row could cure practically anything.
It was apparent that 10 immersions in total gong sound if done 10 days in a row was a bit impractical for most. So, I connected them together in one all-night Gong Puja and now it is standard procedure all around the world for our gong masters.
In the short nights of mid-summer 10 continuous full 45-minute gong tone-bath immersions will equal 450 minutes or 7 and a half hours/…/
I recommend that the all-night gong pujas be kept at a moderate volume so that the body may absorb the sound while being rejuvenated during sleep. While the single 45-minute gong bath therapy must reach full volume into the 7th layer of the blue ethers for de-materialization of the mundane consciousness.
It is in this gong sleep that the 24-hour innate consciousness is able to be super-conducting while the ego is in suspension''. Don Conreaux (Grand Gong Master)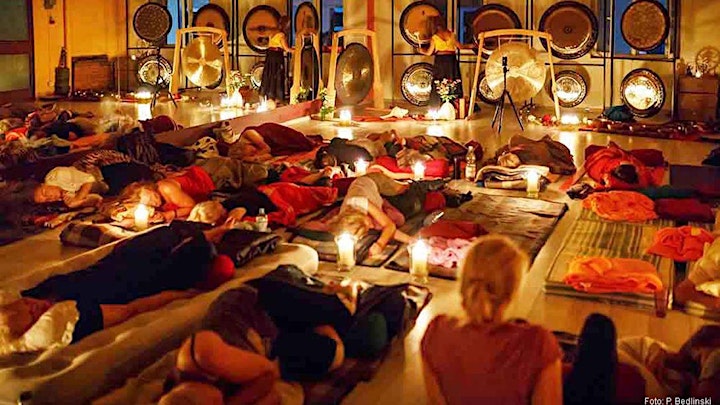 This beautiful photo has been taken from internet