Description

The lecture is hosted by All Saints Centre for Mission & Ministry, which trains people for ordained and Reader ministry in 7 dioceses across the North-West and East Midlands.
The event is open to people from churches in the dioceses we work with and beyond as well as current trainees.
Elaine Storkey is a philosopher, sociologist, and theologian. She has been president of Tearfund, and director of training for Church Army. This summer she was awarded the Abraham Kuyper Prize for Excellence in Reformed Theology and Public Life. Her most recent book, the culmination of 8 years of research, has received critical acclaim.
Sue Atkinson in The Church Times wrote: "I hope this book will be read by every Christian on the planet. It is impossible to read it without being changed, and, for me, it could be one of the most influential books of the century".
Elaine's All Saints Lecture, will be directly relevant to all exploring theology, mission, and biblical studies.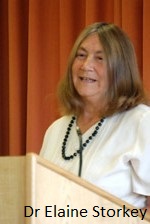 Website: www.allsaintscentre.org