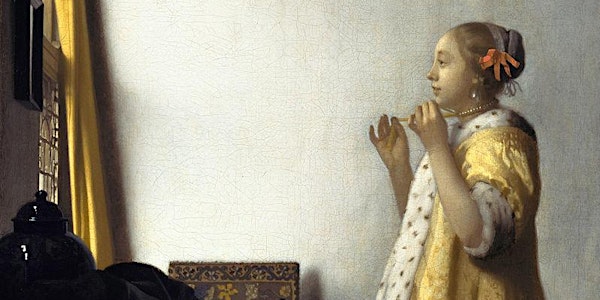 'All that Glitters...': Visual Representations of Dress in the Early Modern...
Sales Have Ended
Registrations are closed
All the places for this conferences have been filled out.
Event Information
Location
Kunstgewerbemuseum & Lipperheidesche Kostümbibliothek
Kulturforum
Berlin
Germany
Sales Have Ended
Registrations are closed
All the places for this conferences have been filled out.
Description
Since few garments survive from the early modern period, especially pre-1700, reliance on depictions of early modern dress in art is unavoidable. Dress and textile representations in paintings, drawings, prints, costume books, alba amicorum and sculptures form some of the main visual sources, which in addition to possibilities have various limitations with regards to reliability and interpretation. From fantasy draperies and studio props to true to life portrayals of the sitter's real garments, the implications of what pictorial representations can offer to dress historians are innumerable and complex.
While in some cases depictions of dress and textiles can act as tools for interpretations of paintings, in others, such as some depictions of dress and fabric worn in the overseas colonies are merely akin to fantasy dress in art. Portrayals of the elite largely survive providing information about the dress worn by the upper echelons in society. However, do such portrayals depict innovations in dress style and textile patterns accurately or do they merely portray a traditional form of dress that conforms to the specific genres of the various visual mediums? Furthermore, such portrayals are scarce in regard to clothing worn by other classes of society and in many cases the context in which they were depicted may have affected the representation. The conference aims to generate a discussion about the extent to which visual sources can be reliable in providing an accurate representation and understanding of the changes and innovations in dress, textiles, fur, haberdashery and jewellery with regards to the context in which they are depicted and used.
Organised by Jola Pellumbi and Sara van Dijk
Dressing the Early Modern Network


DAY 1 - THURSDAY 14 SEPTEMBER
10:00 Registration
10:00-10:30 Morning coffee and tea
10:30-10:40 Welcome by organizers and Christine Waidenschlager (Kunstgewerbemuseum,
Berlin)
Panel 1: Intriguing Visual Sources
10:40-11:00 Representations of Dress in the Lipperheide Costume Library as Agents for the Reconstruction and Studies of the Historical Realities of Dress
Sabine de Günther (Humboldt University, Berlin)
11:00-11:20 Clothed as Habsburgs: Dressed Sculptures of the Virgin in the Iberian Peninsula and their Value to Fashion History
Diana Rafaela Pereira (University of Porto, CITCEM, FCT)
11:20-11:40 Playing with Print: Fashion, Satire and the Parisian Print Industry in Eighteenth-Century Europe
Lydia Caston (Royal College of Art / Victoria and Albert Museum)
11:40-12:00 A Couture Collection for the Valois Family?: Inventories and Manuscript Illuminations as Sources of Dress History
Kyunghee Pyun (Fashion Institute of Technology, New York)
12:00-12:30 Discussion
12:30-14:00 Lunch break and occasion to visit the Kunstgewerbe Museum's fashion display
Panel 2: The Reliability of Portraiture
14:00-14:20 "A French bodie (...) to keep in my belly": Underneath Women's Portraits of the Sixteenth and Seventeenth Centuries
Soline Anthore Baptiste (UPMF, Grenoble / Ca'Foscari, Venice)
14:20-14:40 Stephan II. Praun as a Pilgrim to Santiago (1571): A Comparative Study on Pilgrim Dress
Adelheid Rasche (Germanisches Nationalmuseum, Nuremberg)
14:40-15:00 Countess Amalia von Hatzfeld: A Depiction of a Lady in Red Dress and Black Zimarra Trimmed with Bobbin Made Golden Braids
Lena Dahren (Uppsala University)
15:00-15:20 Discussion
15:20-16:10 Coffee and tea break
Panel 3: Nobility Portrayed
16:10-16:30 When Clothes Make the Difference: Artistic Emphasis or a Matter of Context?
Sidsel Frisch (Aalto University)
16:30-16:50 Material Messages: A Reassessment of the Portrait of Mary Tudor and Charles Brandon
Rosalind Mearns (University of Exeter)
16:50-17:10 How Does Fashion Glitter in Portraits?
Kjerstin Vedel (independent scholar)
17:10-17:30 Discussion
DAY 2 - FRIDAY 15 SEPTEMBER
Panel 1: Case Studies of Specific Garments
10:00-10:20 Hidden in Plain Sight? The Invisibility of Knitting in the Early Modern Artwork
Jane Malcolm-Davies (Centre for Textile Research, University of Copenhagen)
10:20-10:40 From the Visual to the Archival Sources: Following the Traces of the Croatian Fashion Terminology in Venice in the Second Half of the Sixteenth Century
Katarina Nina Simončič (University of Zagreb)
10:40-11:00 "Pregnant" Dress: Gendered Fantasy or Lived Reality?
Lane Michelle Eagles (University of Washington, Seattle)
11:00-11:20 Discussion
11:20-11:50 Coffee and tea break
Panel 2: Painters' Interpretations of Dress
11:50-12:10 Round Caps and Striped Hosen. The Mysteries of Jheronimus Bosch's Donor Portraits
Marieke van Wamel (Radboud Universiteit Nijmegen)
12:10-12:30 Diplomatic Garments: Fashionable Dress as Statement of a Mission: Anthony van Dyck's Portraits of Sir Robert and Lady Teresa Shirley
Lydia Rosía Dorn (Independent scholar)
12:30-12:50 Giambattista Tiepolo's Historical Costumes
Torsten Korte (Humboldt University, Berlin)
12:50-13:10 Discussion
13:10-14:15 Lunch break
Panel 3: Depicting the Other
14:15-14:35 Text, Image, Tradition, and Fashion: Elite Dress in Colonial Minas Gerais, Brazil
Rachel A. Zimmerman (independent scholar)
14:35-14:55 Attracting the Eye of the Beholder: Images of Africans in Sixteenth-Century Costume Books
Carolin Alff (Ruprecht-Karls-Universität, Heidelberg)
14:55-15:15 Costumed Cities: Images of Dress in the Paludanus Album (c. 1600)
Marika Keblusek (Leiden University)
15:15-15:35 In Their Own Eyes, and in the Eyes of Strangers: Representations of Swedish Dress in the Sixteenth and Seventeenth Century
Eva Andersson (University of Gothenburg)
15:35-16:05 Discussion
16:05-16:15 Concluding remarks
16:15-17:15 Farewell coffee and tea
Date and time
Location
Kunstgewerbemuseum & Lipperheidesche Kostümbibliothek
Kulturforum
Berlin
Germany