Location
Gresham College
Holborn
London
EC1N 2HH
United Kingdom
Description
Panel discussion : Allegations of domestic abuse : are family courts working for children & families?
The Transparency Project is facilitating this event to mark the publication of its new guidance note :
HOW DO FAMILY COURTS DEAL WITH CASES ABOUT CHILDREN WHERE THERE MIGHT BE DOMESTIC ABUSE?
The event will be chaired by journalist and Transparency Project member Louise Tickle, and the panel will include :
Mr Justice Keehan QC
Sam King QC
Sarah Parsons (CAFCASS)
Bob Greig (Only Dads / Only Mums)
Dr Freda Gardner (Psychologist)
Olive Craig (Legal Officer, Rights of Women)
We encourage contributions from all attendees and the event will be run so as to maximise audience participation.
The guide and this event have been made possible through a grant from the Legal Education Foundation and the kind sponsorship of Bloomsbury Professional Family Law.
Although we are not charging for tickets, in order to ensure that our audience is drawn from a wide background, we do invite those who are in employment to make a donation when they purchase a ticket. Any donations will be applied to the work of The Transparency Project.
Please read the ground rules which are applicable to this event on The Transparency Project website before booking your ticket. Purchase of a ticket is taken as your confirmation that you agree to abide by the ground rules, which are in place to protect the privacy of individuals and to comply with the law.
Please note this event will be video recorded and the video placed on our YouTube channel in due course. The recording will be from a single static camera at the back of the event hall, showing the panel and the audience from the rear angle. You may therefore choose not to use your full name.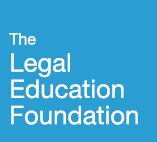 About our Supporters
Bloomsbury Professional Family Law publish cornerstone works such as Hershman & McFarlane: Children Law & Practice as well as new, pioneer titles covering areas such as transparency in family courts, children's views and evidence, vulnerable witnesses and child migration, making them the family law publisher of choice for progressive thinking professionals. Their kind sponsorship has partly funded this event and the printing of the guidance note.
Our grant from Legal Education Foundation has made the writing and launching of the guidance note possible.
Pointing finger picture courtesy of Gabe Austin on Flickr (Creative Commons licence)