Sales Have Ended
Registrations are closed
Thank you for registering to attend our Masterclass. We will be in touch shortly with more event information and instructions. Should you have any queries please call our events team 01322 470342 or 01322 470347 Kind regards, The Allergy UK Team
Sales Have Ended
Registrations are closed
Thank you for registering to attend our Masterclass. We will be in touch shortly with more event information and instructions. Should you have any queries please call our events team 01322 470342 or 01322 470347 Kind regards, The Allergy UK Team
Description
Allergy UK's FREE Masterclass for Healthcare Professionals , Allergy: 'The Modern Epidemic', will bring leading experts in the field of allergy to London, offering a unique and valuable opportunity to learn more about the diagnosis and treatment of allergic disease in adults and paediatrics.
08.30 - 09.00 registration > 16.00 close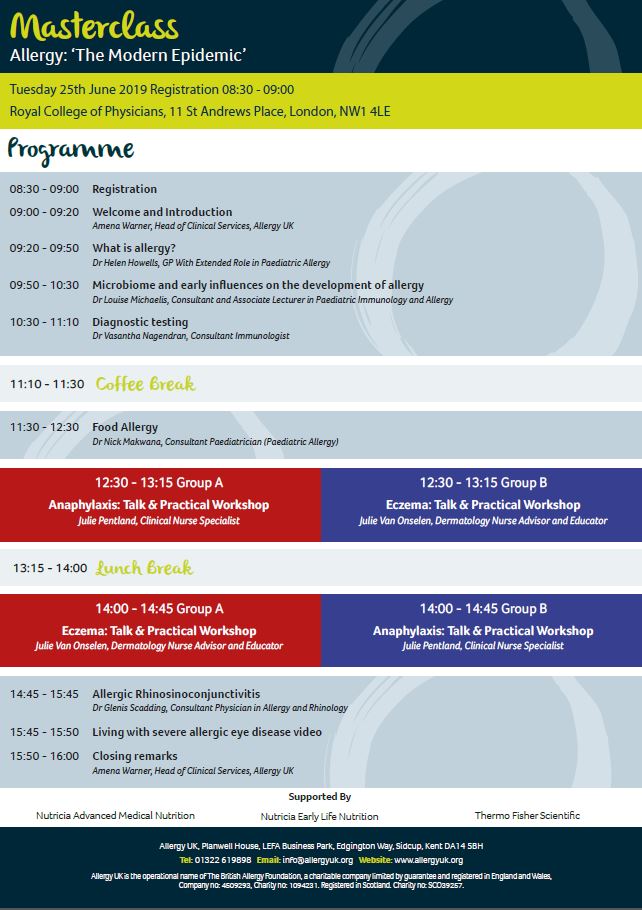 Attendees will also be able to claim their CPD points.
Please complete your name when you register as you would like to see it printed on your certificate of attendance. example : DR S Chambers, Dr Sally Chambers, Professor S Chambers
Our highly-evaluated and often 'sold-out' training days are essential for all healthcare professionals, so don't miss your opportunity to attend this FREE course!
To register your interest for other Allergy UK Masterclasses or to recieve our Allergy Today magazine which includes articles from Allergy experts please click here
'Fantastic day I thoroughly enjoyed & information I know it will be useful in my current clinical practice'. Delegate London Masterclass 2018
'Please thank all organiser's and presenters. All lectures were very engaging and lecture were very practical.' Delegate London Masterclass 2018
'Really enjoyed case studies and interactive questions. No further suggestions all very good' - Delegate London Masterclass 2018
By clicking 'Register' you are agreeing to Eventbrite processing your ticket purchase on behalf of Allergy UK and you are also agreeing to receive updates about the event via email or post.
Please take a few moments to read our Privacy Policy found here.