The Allerton Cricket Team of Someset *Athletes* take on the Lashings World XI - International Cricket team for a T20 game!
About this event
The Lashings World XI are a touring side of former international cricket stars (England, WI, India, Pakistan, Australia) including Courtney Walsh, Curtly Ambrose, Charl Willoughby, Chris Lewis, John Embury, Martin Bicknell, Devon Malcolm and more great names (details to follow on our Facebook Page as the squads are announced.
We are hosting a fundraiser for the new Allerton Pavilion on July 9th 2021 (Friday). The Lashings World XI will come to Allertonfor this David Vs Goliath match. Come and support the Allerton side as they take on the cricketing legends. Meet and migle with the stars after the game and hear the superb LIVE commentary from Test Match Special legend, Henry Blofeld!
Early bird tickets are just £5, Standard tickets are £10.
There will be a liscenced bar and food available to purchase, car parking is available adjacent to the club site.
Rescheduled date announced for Allerton CC v Lashings World XI
I'm sure, by now, you will have seen the government's plans for easing the COVID-19 lockdown. The easing of restrictions surrounding hospitality is not planned to begin until 4 July at the earliest, and even then, social distancing should be maintained. In light of this and the obvious difficulties in ensuring social distancing of 250+ people for a banquet lunch in a marquee, we have taken the decision, in discussions with the Lashings World XI, to postpone our event until Friday 9 July 2021.
Like us, while you are disappointed by this decision, you understand the rationale behind it. Of course, our primary concern is the health and safety for all involved in making this event what it promises to be.
Additionally, we would not wish to play against an unprepared Lashings team. Due to the current situation they have been unable to train together, and I'm sure they will not wish to be "undercooked" when they arrive to face the might of Allerton CC!
We will, of course, keep you informed of future developments, as we prepare to welcome you all on Friday 9 July 2021. Please do not hesitate to contact us should you have any questions.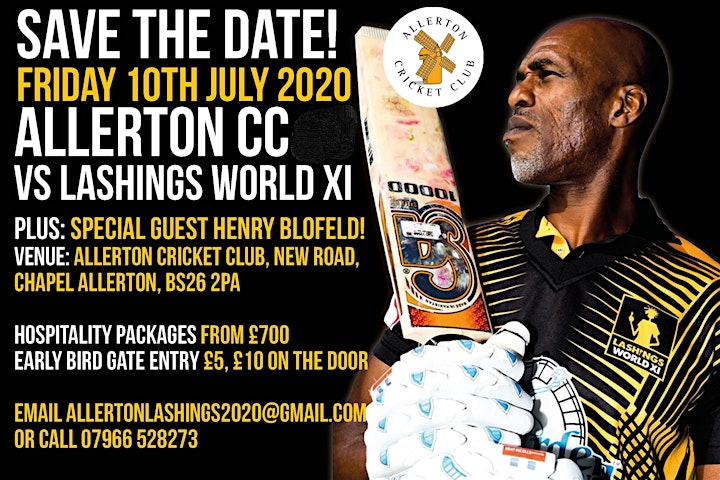 Postponed to 9th July 2021! We look forward to seeing you then!