Ally Rosenberg's debut solo show, 'On Solid Ground', at the Bomb Factory in Archway.
About this event
In his debut solo show, On Solid Ground, Ally Rosenberg straddles ironic sincerity and sincere irony, decoding the fluid relationship between body, mind and inhabited space.
The title work is a multi-layered puddle of herringbone parquet and foam that seeps out from beneath the gallery walls. These spillages invite the viewer to tread upon them and, in doing so, the stability of the space is compromised, as if states of solid and liquid matter no longer play by the laws of physics. While the work destabilises notions of solid, establishment status, it also forces the viewer to literally recalibrate their balance and become conscious of their own body.
Within the installation, we find Rosenberg's signature works, comprising bathroom tiles, chipboard, marble and foam. The sense of fun is palpable in his carefully rendered sculptures made from everyday materials, that act as transformations employed to express humour in the normal stuff of life. Homebody is a cartoonified male figure, cut out of a series of panelled wooden doors. The body concertinas outwards, directing the eye to a tiled wall sculpture, referring once again to the classic male nude, reconfigured in Rosenberg's own inimitable style. He seems to call upon memories of a kind of Tom & Jerry slapstick violence, seeing bodies flattened, smashed through solid structures, or somehow adopting the contours of domestic objects.
Everything we experience is fragile and changeable - we stand not on solid ground, but on ever-shifting tectonic plates, trying to maintain a foothold on reality. In this exhibition, we experience what it's like to revel in the disturbing humour that comes from accepting our own frail perceptions.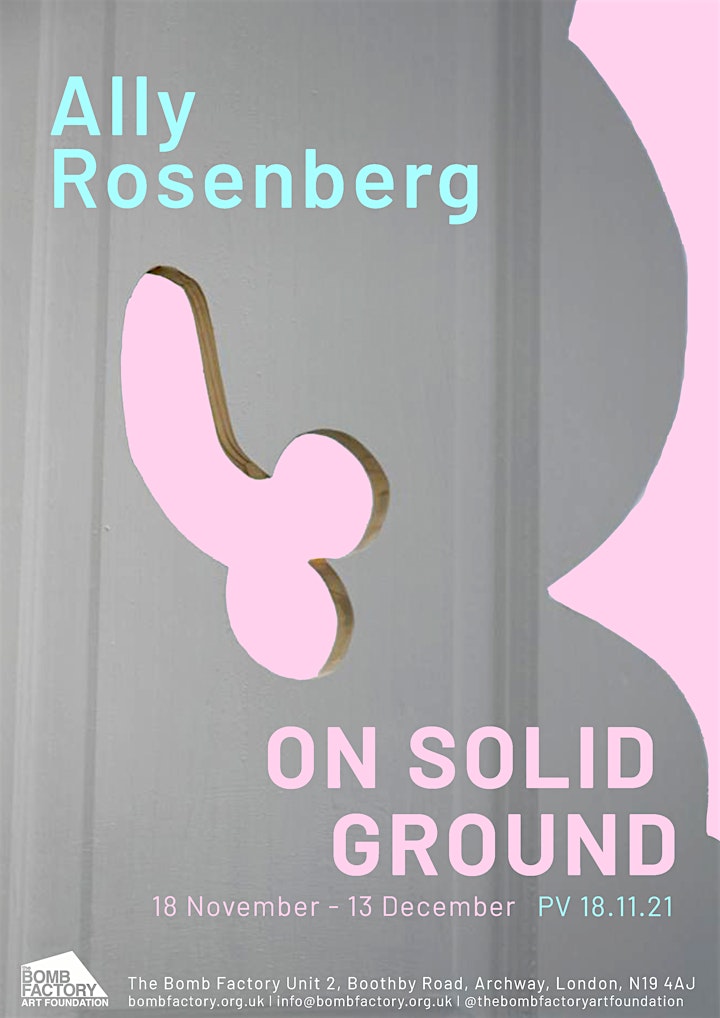 Organiser of Ally Rosenberg "On Solid Ground" Private View
The Bomb Factory Art Foundation is an independent space for contemporary art based in Archway, north London. We are an artist-led non-profit organisation offering affordable studio space, a gallery and workshop to artists at any stage of their careers.
There are over 20 resident artists ranging from recent graduates to internationally acclaimed prize winners. 
The Bomb Factory Art Foundation provides a dynamic context for the creation, support and experience of contemporary art through our evolving programme of exhibitions, open studio events, artist talks and educational activities.
The Bomb Factory Art Foundation is a registered charity.