ALOVE'S BIG DAY OUT IDEAS GROUP

Tuesday, 20 October 2015 from 17:30 to 20:00 (BST)
Event Details
Are you aged 13-25?
Do you have a lot of strong opinions? 
Do you enjoy imagining and planning events or social gatherings?
Would you like to help develop ALOVE'S BIG DAY OUT 2016?
If your answers are all yes, you should apply to be a part of the BIG DAY OUT IDEAS GROUP!  ALOVE'S Big Day Out 2016 is planned for Saturday 19th March 2016 at Alton Towers. We need your help, ideas and opinions to make sure that the programme and activities for the Big Day Out work really well! Simply click on the Registration above and answer all the questions (see the harder questions below, just so you can think before you go for it!).

The closing date for registering for the group is Monday 5th October 2015. 

From all of those registered applicants we will pick a small group of people to form the Ideas Group and will email everyone with the results on Friday 9th October. We will then work out how the best way for us to put our heads together (skype/facebook group/facetime/phone calls).

The ideas group will come together (electronically!) on the week beginning 26th October 2016 with members from the ALOVE UK team and will help to forge the BIG DAY OUT programme and activities.
If you have any questions, please contact us by clicking on the link on this page.
We look forward to hearing from you!
Questions you'll be asked at registration that you might want to think through...
Why do you want to be on the Ideas Group?

What are you involved with at your local corps/church/division?

If you were given £1,000 for your youth group, what would you do? (This isn't actually going to happen - it's in an imaginative exercise!!)

What's the best event (Christian or Non-Christian!!) that you've ever been to and why?

What are your top three most important things that should happen at a Christian youth event?
Organiser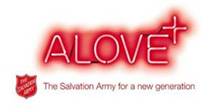 Who we are
ALOVE UK is The Salvation Army for a new generation - an expression of The Salvation Army for young people and young adults.
As The Salvation Army's national youth office, we are responsible for the implementation of The Salvation Army's national youth work strategy for the UK and Republic of Ireland.
We work with young people (primarily aged 12-25), youth workers and youth focused services within and external to The Salvation Army.
The work of ALOVE UK is facilitated by a national team and 18 regional youth officers. The roles within our national team are described below. You can also contact the ALOVE UK office for their contact details (and those of your nearest regional youth officer).
Territorial Youth Secretary: Major Mike Lloyd-Jones
Associate Territorial Youth Secretary: Major Lisa Lloyd-Jones
PA to Territorial Youth Secretaries: Rebecca Mitchinson
Team Administrator: Joseph Rose
Communications and Resources Manager: Hannah Kingston
 Facilitating the ALOVE Youth Movement/Programme and Training
Programme Development Manager

: Dave Cotterill

Training Programme Manager: Matt Leeder
Training and Programme Coordinator: Anita Gellatly
Youth Worker Development Manager: Joanna Taylor