About this Event
We warmly invite you to this very special Alpaca experience. Alpacas are very social beings and they love going for walks. Treat yourself, a friend a loved or your whole family and take one or two of our beautiful boys for a walk lasting approximately 1 hour 15min between 10.30-11.45. You are welcome to bring spectators with you.
You are also welcome to attend our Sunday Yoga at 12.00, Plant-based Lunch at 13.00 & Mantra Meditation at 14.00. There is plenty to do for a half-day out.
About our Alpacas
In 2016, we were offered an opportunity to take care of Alpacas. After building a suitable environment, they came to us in October, 2017.
The alpaca (Vicugna pacos) is a domesticated species of South American camelid, similar to, and often confused with, llamas. However, alpacas are often noticeably smaller and more friendly. Even still, the two animals are closely related. There are two breeds of alpaca: the Suri alpaca and the Huacaya alpaca. Our Alpacas are of Huacaya breed. They typically live in in the mountainous regions in Peru, therefore they feel at home on top of the hill at our farm.
Alpacas are in general very organised and neat. When they defecate they usually designate one place, even if they need to walk farther away. They use a communal dung pile. Their waste can then be collected and used as garden fertiliser, which is their valuable contribution to our Eco Farm.
Alpacas are very social beings and like to spend time with each other and with humans. Each of them have their own personality and character.
We enjoy looking after these beautiful creatures and love caring for them.
Booking details & costs
You will be accompanied by very friendly and expert Alpaca carer Tony Ross.
£20 - to book one Alpaca from 10.30-11.45
£5 - per spectator
£0.50 - for bag of Alpaca feed
£5 - for Yoga, Vegan Lunch & Meditation (you can attend one , two or all three for this one price)
12.00-13.00 - Yoga
13.00-14.00 - Vegan Lunch
14.00-15.00 - Mantra Music Meditation
ALL CHILDREN UNDER 16 MUST HAVE A PAYING SPECTATING ADULT BESIDE THEM, during the trek. Over 12's can lead and under 12's can share.
Free parking is available on-site.
About Krishna Eco Farm
Scotland's best kept secret, Krishna Eco Farm promotes a healthy, wholesome, balanced and holistic way of living by bringing people together with the purpose of practising a simpler, more natural way of life. We aim not only to teach how to grow vegetables, but also how to grow internally and bring light within and then to radiate that light in this world.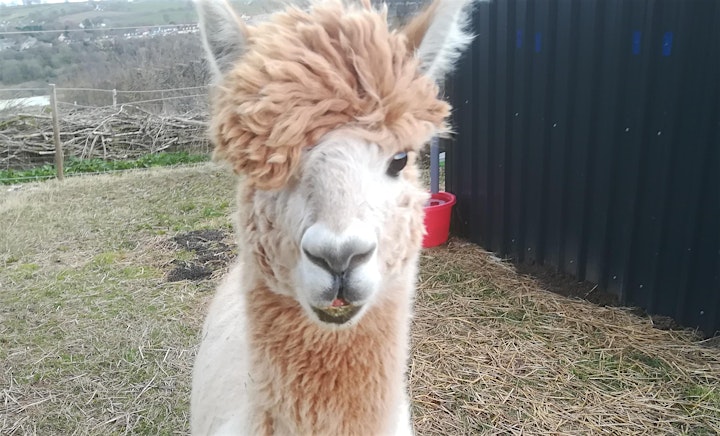 Name: Gaura
Sex: Male
Colour: Brown
Born: March 2014
Character: Gaura has a very curious personality. He likes to check out and watch people and animals passing by. When he is being fed - he will happily allow himself to be cuddled on the neck. He is a fussy eater and given half a chance he would live on treats.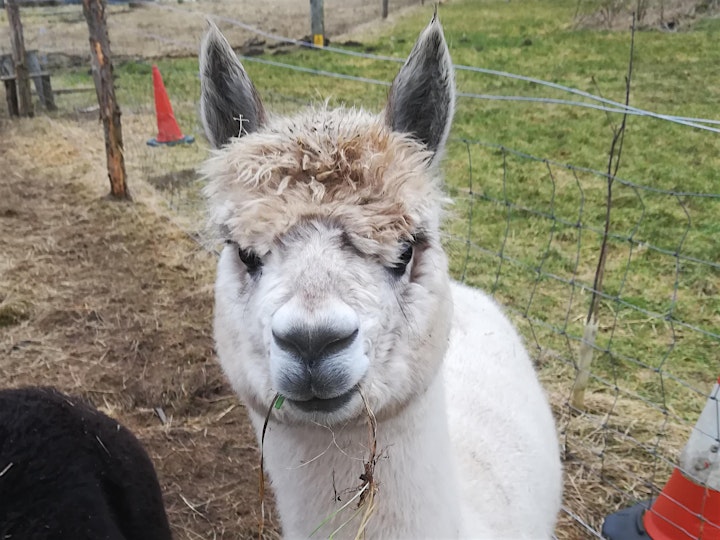 Name: Balaram
Sex: Male
Colour: White
Born: August 2015
Character: Balaram is the shy but naughty one. Sometimes he escapes to feast on the grass which looks greener on other side of the fence.