Description
About this course
The Alpha course is a course for people who would like to explore the basics of the Christian faith. Set in an informal atmosphere the evening will consist of a short dvd, followed by a short talk and discussion. You can participate as much or as little as you like.
A meal is included in the evening and the eleven sessions will run on a Monday evening from 19:30pm - 21:30pm over a course of 12 weeks and it is completeley FREE.
This next course starts Monday 8th October 2018 -17th December 2018
Visit the venue website: www.kingscambridge.org


Why Alpha?
We believe that everyone should have the chance to explore the Christian faith, ask questions and share their point of view; wherever they are in the world.Alpha offers the opportunity to do just that – in an informal, friendly and open environment. No one can force anyone to believe anything, we've found over the years that if we're hospitable and just let guests be themselves, lives will be transformed.


What's the story
Over 24 million people have tried Alpha in 169 countries, and it's been translated into 112 different languages.Developed as a short course at HTB London, in 1990 Nicky Gumbel took over running Alpha and found that many people outside of the church wanted to explore the Christian faith. Alpha now runs in every part of the global church, including the Catholic Church, the Orthodox Church and all mainline Protestant denominations.
What other's say about Alpha: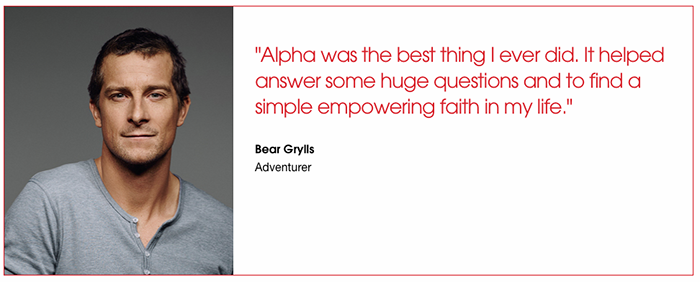 Watch Bear Gryll's story: https://www.youtube.com/watch?v=XLQZM1QwuUs