Event Information
Location
Rich Mix
35-47 Bethnal Green Rd
E1 6LA
United Kingdom
Description
ABOUT ALPHA-VILLE EXCHANGE
Alpha-ville launches EXCHANGE, a one-day conference designed to give the London art, tech and creative communities the opportunity to connect, exchange ideas, get inspired and discover new talent. EXCHANGE features a Day Programme packed with presentations, talks and social events alongside a music programme in the evening for attendees to network and enjoy.
On January 17th, a jam-packed event will bring together the community of people working at the crossroads of art, technology, design and digital culture to meet and share ideas and inspiration.
NOTE: DAY ticket holders have free access to the evening event.
09:30 - 18:30 | DAY/ CONFERENCE PROGRAMME (RICH MIX, VENUE 1 & 2)
ENO HENZE (DE)
Designer, scenographer and creative director.
FIELD (UK/ DE)
Creative studio for digital art and design.
HELLICAR & LEWIS (UK)
Interactive design duo.
KOKORO & MOI (FI)
Creative/design agency.
ONFORMATIVE (DE)
Studio for generative design.
QUAYOLA (UK/IT)
Visual artist and creative director.
SHANTELL MARTIN (US)
Visual artist and designer.
SOUGWEN CHUNG (US/CA)
Designer, Illustrator and visual artist.
STEFANIE POSAVEC (US/UK)
Designer and data artist.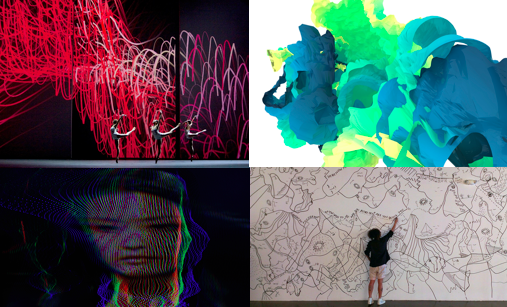 DAY PROGRAMME SCHEDULE
09:30 - 10:00 | Registration and coffee.
10:00 - 10:10 | Welcome & introduction by Alpha-ville Director.
10:10 - 10:50 | Session one
10:55 - 11:35 | Session two
11:40 - 12:20 | Session three
12:30 - 13:30 | Lunch Break (Networking Lunch, Venue 2, Networking Hub)
13:35 - 14:05 | Session four
14:10 - 14:50 | Session five
14:55 - 15:35 | Session six
15:35 - 16:10 | Coffee Break (Venue 2, Networking Hub)
16:15 - 16:55 | Session seven
17:00 - 17:40 | Session eight
17:45 - 18:25 | Session nine
18:25 - 18:35 | Closing
18:40 - 20:00 | Networking Drinks + Live Drawing Session by Shantell Martin @ Venue 2, Networking Hub.
20:30 - 01:00 | EVENING PROGRAMME: MUSIC, NETWORKING, SOCIAL (RICH MIX BAR)
A special night with Dial Records co-founder Carsten Jost (DE) + Rain Dog Live Set (Project Mooncircle, DE) + Guest act.
NOTE: DAY ticket holders have free access to the evening event. Tickets for evening programme only can be purchased via Eventbrite.
Carsten Jost 3hrs Dj set (Dial Record, DE)
As a DJ, producer and co-founder of Hamburg's Dial Label, Carsten Jost has left an indelible mark on deeper dance floors the world over. Born and raised in Hamburg, it was there that he founded the label together with Lawrence and Pawel. Carsten will play a 3hrs set to close this very special night at Rich Mix London.
Rain Dog Live Set (Project Mooncircle, DE) + Guest act.
Sam Evans Aka Rain Dog focuses on creating a narrative within the music through the combination of synth work and samples. He starts with anything that sparks an interest or emotion in him - Tom Waits, Joni Mitchel, Ella Fitzgerald, Portico Quartet and moments from movies, samples like these usually work as a foundation for the tracks. Rain Dog will be presenting his new LP: Two Words, which is set to be released on January 13th.
WHY SHOULD YOU ATTEND?
Exchange brings together some of the world's most exciting artists, designers and creatives of today to talk about the practice, influences and recent works. The event illustrates the dynamic interactions and exchanges between the cultural, artistic and commercial worlds, leaving you well informed and inspired to create your best work. Exchange is also a great opportunity for networking and exchanching ideas with peers within and across industries. Event participants will have the opportunity to take part in short speed dating sessions with artists.
WHO SHOULD ATTEND
Professionals from across the arts, culture, digital media and creative industries spectrums.
- Arts and culture sector
Artists, curators, cultural agents, producers, promoters, critics, programme managers, directors, digital producers, creative directors, arts project managers and art consultants.
- Creative Industries
Designers, illustrators, photographers, filmmakers, architects, musicians, art directors, digital producers, project managers, freelancers and design studios.
- Technology and media
Creative technologists, game developers, engineers, creative start-ups, media agencies and media labs.
- People who are passionate about art, technology, media, design and digital culture.
MORE INFO ON: http://www.alpha-ville.co.uk/exchange
Date and time
Location
Rich Mix
35-47 Bethnal Green Rd
E1 6LA
United Kingdom