Alt. Career Festival

Saturday, September 15, 2012 from 9:30 AM to 6:00 PM
Event Details

The Alt. Career Festival
Introducing you to alternative, inspiring career paths, & teaching you how to get started.
Whether you're looking for advice on starting a start-up, paths into a more rewarding career, or seeking inspiration from adventurous stories, you'll find it at the Alt. Career Festival.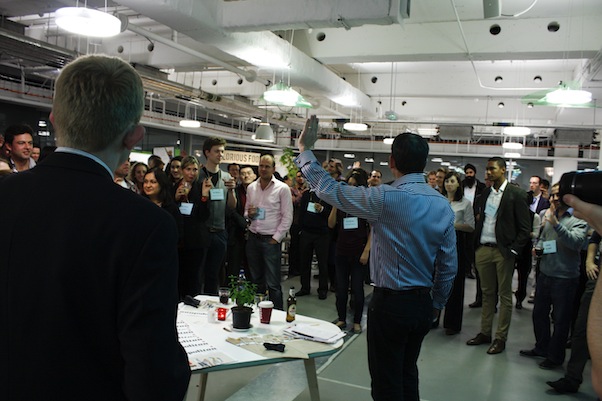 In today's economic climate, the spotlight has continued to shift away the from traditional career paths. There's a new range of opportunities open to switched-on individuals, such as starting a business around your passions, or joining an exciting, innovative social enterprise, and a number of other adventurous alternatives. 
The Alt. Career festival aims to highlight these opportunities. Through a series of stimulating speakers and workshops, and by meeting like-minded people, you'll be able to start designing your own fulfilling and rewarding career. 
If you've been dreaming about your ideal job, developing your own business ideas, or even if you're just looking for some inspiration, don't miss this unique opportunity to find out how you can make it happen.
Programme:
9.30: Registration and networking
10: Hosts Welcome, Richard Brownsdon and Hub Westminster
10.10: Keynote Talks
From Asset Management to Social Start-up, Alex Soskin
Alex Soskin spent 7 years looking after investment structures for high net worth individuals and large corporates. He is an Associate of the Chartered Institute of Management Accountants and has a degree in Mathematics and Business Management. Alex always planned to learn skills in the City and then use them to help companies and individuals with a more ethical philosophy toward business. This plan came to fruition when Alex found Hub Westminster, an organisation specifically designed to help startups with a social mission to succeed. He will talk about his experiences, and why he chose Hub Westminster as a vehicle to fulfil his career aspirations.
Founding READ International and Inspiring Adventures through Africa, Rob Wilson
Rob is a serial social entrepreneur.  He will be talking about how he founded READ International (www.readinternational.org.uk) in 2004, a company that sends used books to schools in East Africa.  They've sent over 1 million books and have won awards including Best International Aid and Development Charity.  Rob will also mention how also moved on from READ in early 2011 to co-write a book about social entrepreneurs in Africa called On the Up (www.ontheup.org.uk) and briefly highlight his experiences abroad. Rob is also a founding director at an IT social enterprise called NoPC (www.nopc.org.uk) and has started a publishing social business called Wripped.  Rob joined Ashoka UK (www.uk.ashoka.org) in October 2011 as Entrepreneur in Residence.
10.50: Tea and Coffee
11.15: Keynote Talks 
From City life to creating a global brand in social entrepreneurship, Tommy Hutchinson
After a twelve year career which included being an aerospace analyst, political adviser to a bank, standing for Parliament and director of a business-to-government industry forum, Tommy left the corporate world to create a number of social businesses before founding i-genius, a world community of social entrepreneurs with members in over 200 countries. The i-genius portfolio includes its social business school, i-genius Academy and Tommy is a Visiting Fellow at Liverpool Hope University, adviser to Hunan University and a trustee of Maytree Respite sanctuary for the suicidal. He co-authored 'A risky business'.
From Technology Consulting to Socially-focused Entrepreneur, Richard Alderson
Disillusioned with his London consulting job, Richard left in 2004 to follow his passion for entrepreneurship, making a difference and discovering the world. He's co-founded UnLtd India, an incubator for social entrepreneurs in Mumbai; Journeys for Change, which takes leaders on transformational journeys to meet the world's most inspiring social entrepreneurs; and the career change website Careershifters. He'll share the key lessons he's learnt, the mistakes he's made and some of the adventures he's had along the way.
Start up is not the end, it's not even the start of the end, it's just the end of the beginning, Tom Rippin
After some years researching cancer, Tom started his non-academic career at management consultants Mckinsey & Company, where he worked across the private, public and non-profit sectors.  Before founding On Purpose, he spent time working in the social enterprise space, first advising the CEO of Comic Relief on private sector matters and then working at (RED), the business founded by Bono and Bobby Shriver to help eliminate AIDS in Africa, where he was Managing Director for Europe and Director of Business Development for (RED) International. As well as running On Purpose, Tom is the Chairman of Spice, and a non-executive director at the Shaftesbury Partnership. 
12.15: Lunch Break 
(Your ticket does not include lunch but it does include all tea & coffee throughout the day, and a glass of wine in the evening.)
1.30 - 4.30: One on One Career Coaching
Sarah Dawrant, Forward Bound Coaching 
Josie Diep, Josie Coaching
Sarah and Josie will be offering four x 25 minute one on one career coaching sessions during the afternoon.  To book these sessions, please arrive early and sign up on the day. See the more information about these wonderful coaches here.
1.30 - 2.30: Workshops Part 1 (running concurrently)
What's out there, in the third sector?
Julian Smith, I Am Enterprises
How do you job hunt in the charity sector?  Learn some of the places to find the best vacancies. Find out which skills are in demand, and discuss how best to present them. This workshop will set the scene for getting involved in the charity and third sector.
How to find work you love
Phil Bolton, Less Ordinary Living
For those who aren't sure exactly what they want to do, and don't really know where to start.
Is starting your own business right for you?  
Thought provoking questions, coupled with first hand experience and some useful exercises, designed to help you answer this question.
Tea and Coffee
3 - 4: Workshops Part 2 (running concurrently)
How do you change sectors?
Julian Smith, I Am Enterprises
Exploring what you need to maximise your employability in the sustainability sector. Covering letter, CV tips, interview skills and how to get that experience employers are looking for. 
How to escape a job that isn't you
Phil Bolton, Less Ordinary Living
Practical ideas and tips for getting out of the job you are stuck in, and making your ideas happen.
Are you ready to start your first business?
Claire Habel, Inspiring Futures 
How do you know when it's time to take the big step to starting up? A step by step approach to help you decide if and when to make the move
4.15 - 4.30: Roundup
4.30 - 6: Wine and social
Having held a number of notabale events, Hub Westminster has been highly praised by a number of clients for its innovative space, and Academy at the Hub, which puts on a number of similar classes and workshops, has had very positive feedback regarding the usefullness and relvance of its classes.
The Alt. Career Festival is being coordinated in association with Richard Brownsdon and Inspiring Adventures - on a mission to inspire more people to join, start and support socially beneficial businesses. 
The Hub Westminster is part of a growing network of global Hub spaces, where people go to get inspired, get connected, and get involved.  There are more than 30 Hubs around the world with over 4000 members.  Learn more about the Hub Westminster here.
When & Where

The Stage
1st floor, New Zealand House
80 Haymarket
SW1Y 4TE London
United Kingdom


Saturday, September 15, 2012 from 9:30 AM to 6:00 PM
Add to my calendar
Organizer
Website:https://westminster.impacthub.net/organizer/rainmaker-foundations-expert-series-workshops/