Description
Traditionally, if you were looking for additional business funding your first port of call would be to your bank. But, as traditional bank lending has been in decline, a number of alternative funding companies have entered the market, offering you far more options. This workshop will cover some of alternative finance options available to your business including crowdfunding, invoice trading and angel investment and whether they would be a viable choice for your business.
We'll cover:
Crowdfunding – Equity
Crowdfunding – Peer to Peer Lending
Invoice Trading
Pension Funding
Business Cash Advance
CDFI Business Loans
Angel Investment
The benefits and disadvantages of each

---
GetSet for Growth is a specialist service supporting businesses with the ambition and potential to grow and create jobs. It focuses on addressing the two biggest barriers to growth: access to customers and access to finance and offers a mixed programme of workshops, masterclasses, 1:1 advice and mentoring, delivered by teams of finance and marketing experts.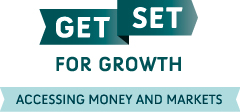 ---
We ask that you register to this free GetSet For Growth program prior to coming, you can do this online by clicking this link.
---
Sessions start promptly, arrive 15 minutes early for teas and coffees.
As we have a limited spaces and have a waiting list for most events, please let us know in advance if you cannot attend, many thanks.
If you would require special assistance in the event of an emergency for any reason, please let us know so we can make any necessary arrangements by calling us on 07825 633025 or emailing pauline.lane@getsetforgrowth.com.