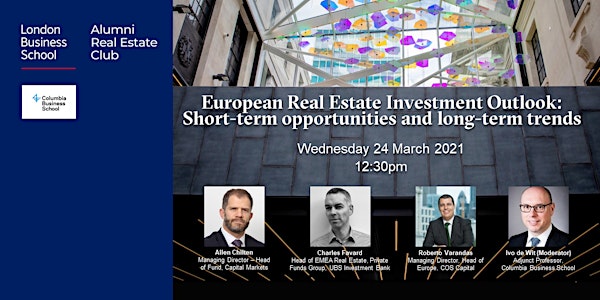 Alumni Real Estate Club: European Real Estate Investment Outlook
European Real Estate Investment Outlook: Short-term opportunities and long-term trends
About this event
Join the LBS Alumni Real Estate Club in collaboration with the CBS Alumni Real Estate Club at this upcoming virtual panel event.
COVID-19 has highlighted some of the challenges across various property types and also brought forward the trends that can impact investment strategies going forward. The panel of senior real estate executives will discuss investment opportunities in real estate across sectors and geographies.
Panellists:
Allen Chilten - Managing Director - Head of Fund, Capital Markets (LinkedIn)
Roberto Varandas - Managing Director, Head of Europe, COS Capital (LinkedIn)
Charles Favard - Head of EMEA Real Estate, Private Funds Group, UBS Investment Bank (LinkedIn)
Moderated by:
Please note this event will be recorded.
LBS Alumni website: https://www.london.edu/alumni
CBS Alumni website: https://www.cbsclublondon.org/