Alumni Weekend 2019: Dubai

Saturday, 13 April 2019 from 09:00 to 19:00 (Gulf Standard Time United Arab Emirates Time)
Event Details
Alumni Relations Team is excited to present an exclusive alumni event taking place at Hult Dubai campus Saturday, April 13th.
We would like to welcome you to a day of learning with Professor Jonathan Wilson, LinkedIn Top Voice 2017 & 2018, who will teach a 'compressed' one-day class on branding yourself, building networks and becoming a thought leader in the modern world. This will be an alumni only class, offering you a chance to network with alumni in your region and at the same time let you reinvest in your learning. 
Note: We have limited seats for this event, and they will be allocated on a first come first serve basis. The last day to book your ticket is Sunday, 7th April 2019. 
13th April Agenda
9.00 - 10.00 - Registration and light breakfast
10.00 - 13.00 - Class with Professor Jonathan Wilson
13.00 - 14.00 - Networking Lunch
14.00 - 17.00 - Class with Professor Jonathan Wilson
17.00 - 19.00 - Networking and light dinner
Seminar Description
'Reputation Building and Personal Branding in a new reality'
On the day, Professor Jonathan Wilson will deliver interactive workshops and training in the areas of:
A refresher on Brand theory and practice and why Branding is a vital component of products, services, nations, cultures, and ideas 

Reputation Building and Personal Branding in a new reality

Innovative and entrepreneurial ways to network and engage with Industry and the Media

How being a content creator can enhance your profile, build networks and make you a thought leader?

Advanced LinkedIn – tips and tricks
About Professor Jonathan Wilson
Professor Jonathan A.J. Wilson PhD is an award-winning Academic and Consultant who specialises in what he calls the ABCDs of Business and Culture: Advertising, Branding, Communications, and Digital. He has published over 200 pieces of work, which have led to over 100 conference-speaking engagements across the globe.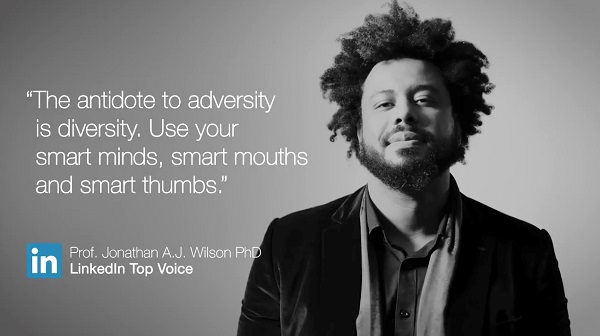 In 2017 and 2018, Professor Wilson was named as LinkedIn Top Voice and has been one of the featured professionals in their cross-platform advertising campaigns – something that he is especially proud of. 
He has recently published his first Book: Halal Branding. The latter offers a nuanced and fresh philosophical approach - packed with branding toolkits, practical advice on how to build authentic and powerful brands in specific cultural environments.
Professor Wilson has developed a reputation for being an electric, insightful and quick-witted public speaker able to tackle real-world trending phenomena. He has worked with the Indonesian Ministry of Tourism, Al Jazeera, and viral tech-fashion brand the ISHU amongst others. Also, his research on Luxury Branding and Inconspicuous Consumption featured in Harvard Business Review and won Best Paper award in the Journal of Marketing Management.
Last but not least, Professor Wilson's work and views have been featured in many reputable magazines and newspapers, amongst them Khaleej Times, and He sits on the panel of judges for the Islamic Economy Awards.
When & Where

Hult International Business School

Dubai, Dubai
United Arab Emirates

Saturday, 13 April 2019 from 09:00 to 19:00 (Gulf Standard Time United Arab Emirates Time)
Add to my calendar