Alvin Langdon Coburn in the Footsteps of Robert Louis Stevenson
About this Event
Alvin Langdon Coburn in the Footsteps of Robert Louis Stevenson:
A talk by Roddy Simpson
On the eve of the 2019 Robert Louis Stevenson Day, we invite you to discover the work of American-born twentieth century photographer Alvin Langdon Coburn, who helped illustrate a 1954 edition of Stevenson's book Edinburgh Picturesque Notes with a series of photographs. Taken in 1905, Coburn regarded these photographs as some of his "very best" work though he always regretted that he never got to meet Stevenson himself, who had died in 1894.
"I consider Edinburgh one of the most beautiful cities in the world, and Robert Louis Stevenson appreciated it as few have done. For over fifty years I have followed lovingly in his footsteps, endeavouring to see it as I thought he saw it, and I hope that he would have approved of what I have done in illustrating his Edinburgh Picturesque Notes."
Coburn also said:
"I never met Stevenson in the flesh. It is one of my great regrets that I came just a little too late to make his portrait, but I have all his books and have read them many times, so that I seem to know him better than some of my other friends. Through his Edinburgh and in his Edinburgh I seem to know him best of all".
This talk will explore Coburn's admiration for Stevenson through the photographs he produced for the edition of Edinburgh Picturesque Notes and will look at the images and discuss the affinity they have with Stevenson's prose.
Alvin Langdon Coburn (1882-1966) was an early 20th-century photographer who became a key figure in the development of American pictorialism. He became the first major photographer to emphasize the visual potential of elevated viewpoints and later made some of the first completely abstract photographs.
Edinburgh Picturesque Notes: This non-fiction travel book written by the Scottish author Robert Louis Stevenson was first published in December 1878 as "a paean to his birthplace" and was his second published book following An Inland Voyage. The book began as a series of articles which appeared in the magazine, Portfolio. It provides Stevenson's personal introduction to each part of the city and some history behind the various sections of the city and its most famous buildings. It was then published as a book divided into ten chapters and consisting of a series of essays describing different areas of Edinburgh: the Old Town, the Parliament Close, Greyfriar's Kirkyard, the New Town, the villas in Morningside, Calton Hill and the Pentland Hills.
Roddy Simpson is a photographer and photo historian; he is an Honorary Research Fellow in the School of Culture and Creative Arts at the University of Glasgow and a Teaching Fellow at the Centre for Open Learning at the University of Edinburgh. His book, The Photography of Victorian Scotland, was published by Edinburgh University Press in 2012 and has been described as 'the seminal book on the history of Scottish photography'. Earlier this year Roddy presented the study day Early Edinburgh Photography: An exploration of the work of Archibald Burns, here at the Patrick Geddes Centre at Riddle's Court.
About Robert Louis Stevenson Day: This is an annual date on Edinburgh's literary calendar when the life, loves and works of one of the most famous writers born in our City of Literature gets marked with a moustache-twirling and velvet-clad week full of events, in town and online, leading up to Stevenson's birthday on the 13th November.
Every ticket sold helps support the work of the Patrick Geddes Centre at Riddle's Court, and Scottish Historic Buildings Trust.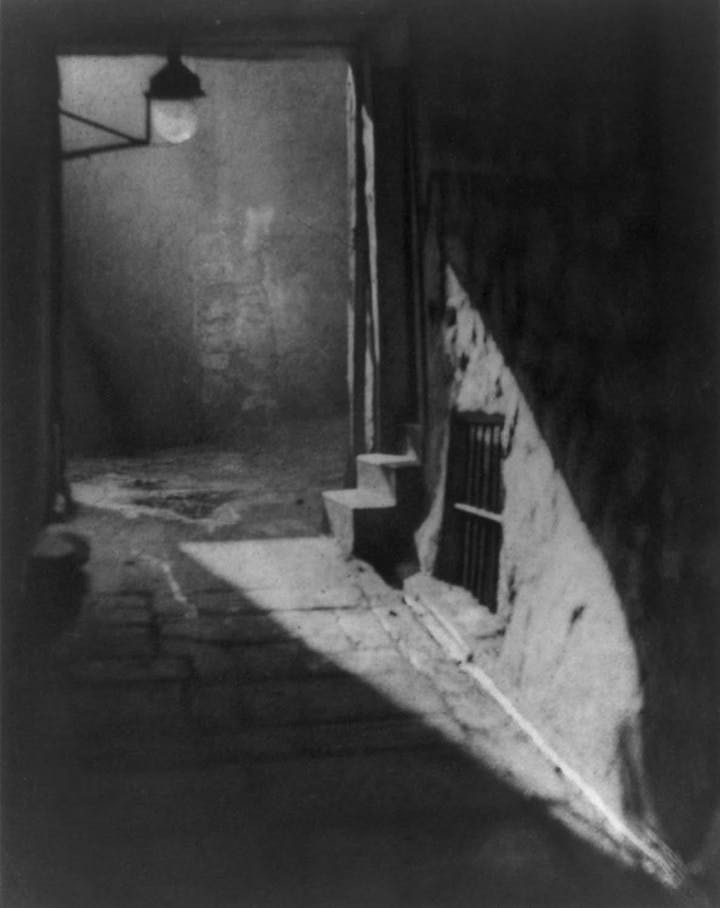 Alvin Langdon Coburn: 'A passage between tall lands', also known as 'Weir's Close, Edinburgh', 1905.
Image courtesy Library of Congress, LOC 3b21363u.