Description
It's here!

And it's going to be OARSOME!
This is your chance to spend a half day learning how to row and having oodles of fun! Like, seriously LOADS of fun!
In just four hours, you will learn:
That no one at your local gym knows how to use an rowing machine properly! (But you will now know!)
The rowing on the water in an actual boat is WAY better than using a rowing machine!
That rowing is not as easy as it looks, but that it is truly OARsome!
That rowing is all about the legs, not the arms!
But most excitingly, you'll get to take all this new found knowledge and skill out into an actual rowing boat on the actual River Mersey. How incredibly fabtastic is that? (Clue: VERY!)

During this fun-packed, action-packed and value-packed event, you will learn how a series of small adjustments can make a massive difference to the success of a boat ... much like a business!
What's not to love? (Clue: absolutely NOTHING!)
We'd love you to join us! So, what are you waiting for?
We can only take EIGHT people on this OARSOME journey with us, so don't delay, and book today!
(If you don't, you'll only be letting yourself, your family, your business, your customers and us down. And nobody wants that to happen, do they?)
SEE YOU THERE!

*** PLEASE NOTE ***
As rowing is a water sport, you need to be able to swim 50m to take part in this event. (We are not planning to go swimming, this is purely a safety precaution!)
You will also need to be prepared to go out in all weathers (except in the unlikely event that the weather is hazardous and presents a danger to participants) and will need to sign a medical declaration. This will be sent to you upon booking, but if you'd like to see this in advance, please contact Jen Hinds jen@jennyhinds.co.uk.

You will also need to be prepared to have LOADS of fun, and quite possibly fall in love with rowing! :-)

PEOPLE WHO HAVE ATTENDED AN ALWAYS OARSOME EVENT IN THE PAST HAVE SAID:
"From the second we arrived until we left, Gill and Jen were fantastic hosts."
"The day was very well run and I would like to again say a massive thank you. It really was a great experience."
"Thank you so much for having us, we had a wonderful day on the river. It was definitely the most challenging thing any of us have done for a while but we would all love to come back!"
"A personal thank you for all the hard work putting together such an amazing day."
"Very early feedback from our client is one of huge success, attributed to the hard work and organisation of Always Oarsome."
"The rowing was truly a great experience, and one that the majority would never have had the opportunity if not for this event."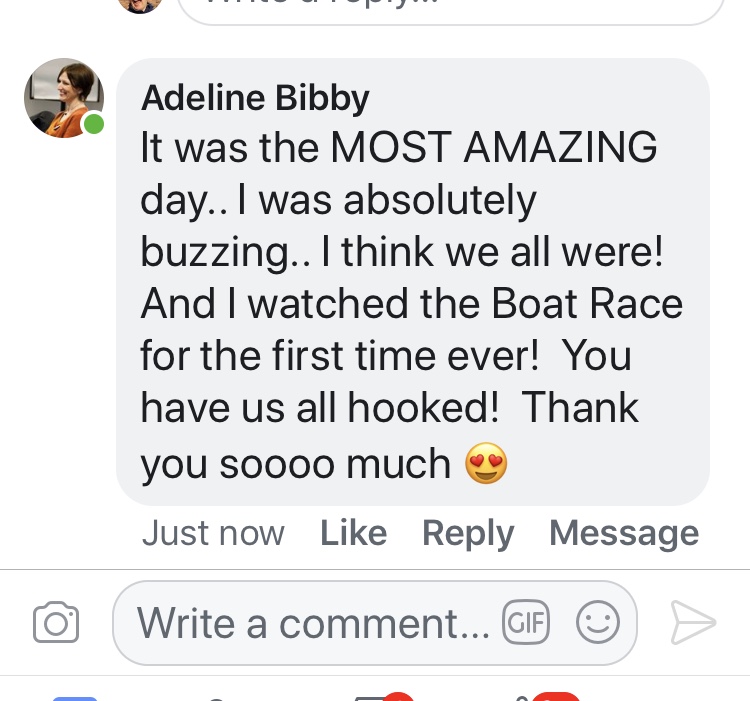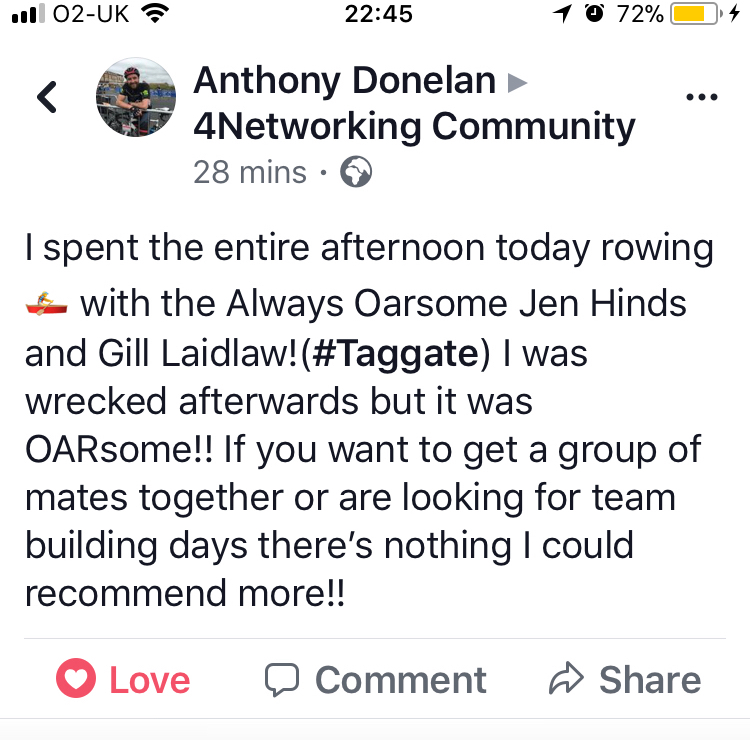 We can't wait to hear what you'll say!