Description
Join this fun dance session with a difference to fundraise to heal abused children. The session is lead by Swedish Fit, London's new fitness sensation!
DrivenWoman is proud to support the work of Paint Our World - a humanitarian project dedicated to making a positive difference to the lives of underserved children founded by our long term supporter Dr. Priya Virmani.
Paint Our World works to emotionally empower children who have been through trauma – this includes child sexual abuse and becoming orphaned. Their aim is to give them times that are fun, that are essentially what childhoods ought to be about.
They provide child-friendly, fun, imaginative spaces for the children by designing classes using tested, child sensitised art based activities. Expressive art therapies are subtle, fun methods to teach the children safety, trust, care and the like. This translates into better self esteem and focus and facilitates the development of key skills. The aim of the process is to equip them with a better chance of becoming happy, stable adults leading purposeful lives.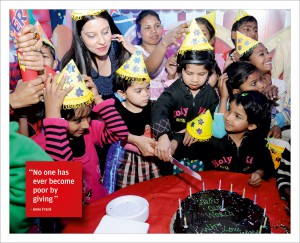 We will be dancing to chart topping Bollywood, English and international hits. All proceeds will go to Paint Our World - a charity healing and empowering the lives of underserved children in India. Children under 12 go free.
AMARE PROMISES TO BE AN UNFORGETTABLE EVENT FULL OF FUN FOR A MEANINGFUL CAUSE. WHAT IS THERE NOT TO LOVE?

POWerful love and light,
Team Amare
For more information about Paint Our World's work, please visit paintourworld.org