Description
Welcome to Amazon Academy 2020
The Amazon Academy programme is a series of free events to help small businesses succeed in the digital economy. Since 2016, more than 3,000 SMEs have attended Amazon Academies across the UK to learn how to scale their business.
As a small business owner (or someone thinking of starting your own business), you will learn how to use the power of the internet and technology to boost productivity, grow your export sales and build your brand (if a brand owner). You will be able to hear from a range of Amazon speakers who will provide advice and insights on growing your sales on Amazon, as well as a selection of independent experts who can advise on the broader issues facing businesses today. Attendees will also have the chance to go behind the scenes of Amazon's fulfilment centre during the day.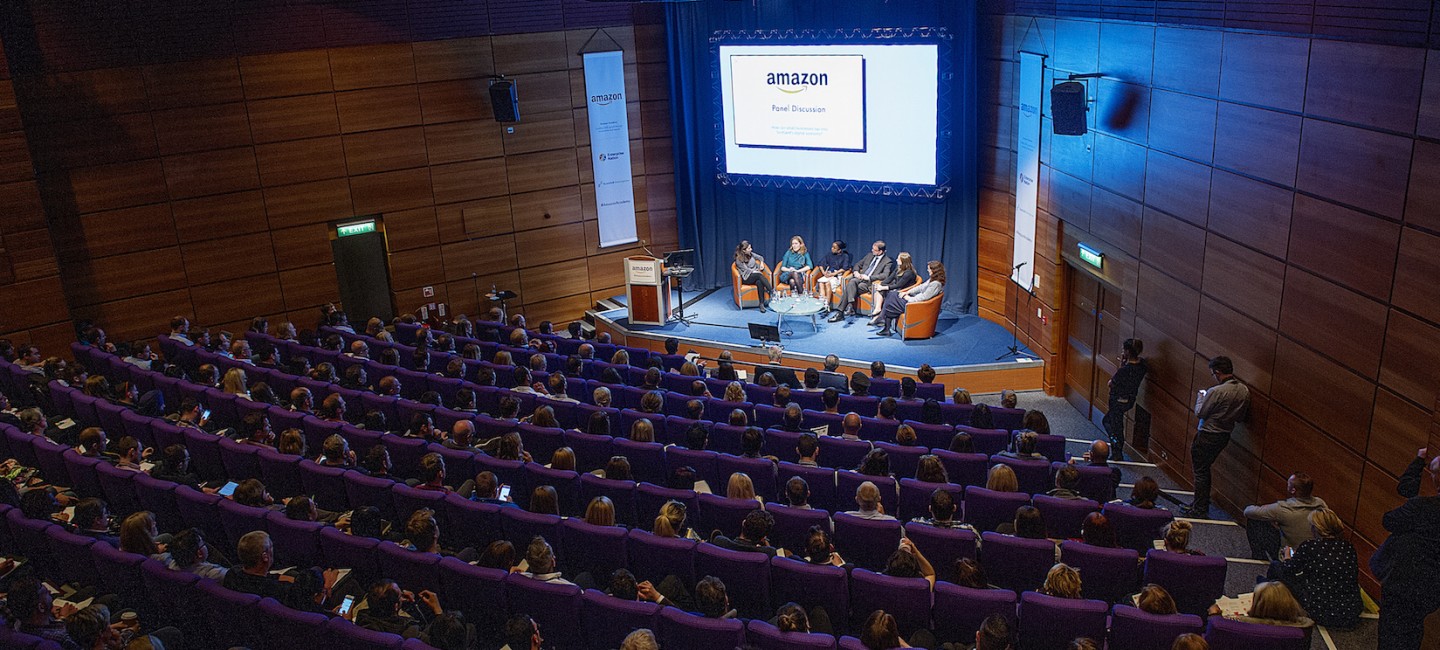 What happens on the day?
In the morning, you'll be able to find out how you can make the most of the digital opportunity as a small business, with insight from Amazon, Enterprise Nation and other independent experts and successful entrepreneurs.
Ever wondered how Amazon delivers for its customers? Event attendees can go on a behind the scenes tour of Amazon's fulfilment centre and see what happens when you click 'buy' on Amazon.co.uk.
Tours will begin every 15 minutes and will last 30 minutes. All guests must wear flat, closed-toe and closed-heel shoes (no sandals or high heels). We recommend wearing comfortable shoes/trainers. Hair which falls below the shoulders should be tied back. Please note no photos are to be taken during the tour.
You'll also enjoy a networking lunch with fellow entrepreneurs and experts.
If you would like to create your Amazon Selling Account prior to the event, make sure to follow this link here.
Your Amazon Academy Agenda
08.30am: Option to take a morning tour of the Amazon fulfilment centre before the talks begin
09.30am: Registration and morning refreshments
10:00am: Welcome from Emma Greenfield, head of events and campaigns, Enterprise Nation
10:05am: Welcome from Adam Banks, site leader, Amazon
10:15am: Introduction to Selling on Amazon
10:45am: Marketing and advertising - How to showcase your products
11:15am: Morning refreshments
11:40am: Going global - Reach new customers across the world through Amazon
12:10pm: Meet the entrepreneur. Q&A with a successful entrepreneur: Zamir Cajee, founder, IQualTech
12:40pm: Meet the independent experts who can help you grow your business – Audience Q&A hosted by Enterprise Nation
Darren Buxton, business growth specialist, Sheffield City Region Growth Hub
Dan Fell, chief executive officer, Doncaster Chamber of Commerce
Louise Sunderland, director of programmes, Be the Business
Daniel Wood BFP ACA, audit manager and ICAEW chartered accountant, Hawsons
Kayleigh Walker, s

olicitor,

Haseltine Lake Kempner LLP



1.10pm: Lunch, networking and further tours of the Amazon fulfilment centre
2.00pm: Event ends
About Enterprise Nation
Enterprise Nation is the UK's most active small business network and we have helped thousands of people turn their good idea into a great business.
Enterprise Nation membership gives you access to exclusive opportunities to grow your business and connects you with like-minded entrepreneurs and business experts who can help. Membership is just £10 a month and you can cancel at any time.

Organiser of Amazon Academy Doncaster 2020
We help people turn their good ideas into great businesses with expert advice, peer support and a campaigning voice.
Find out more: www.enterprisenation.com