Description
Welcome to the Amazon Academy Manchester 2019
Following the success of the Amazon Academy events throughout the UK over the past 3 years, the Amazon Academy is back and this year for the first time ever attendees will have the chance to go behind the scenes at Amazon as the event is hosted in the Amazon fulfilment center.
As a small business owner (or someone thinking of starting your own business), you will learn how to use the power of the internet and technology to grow your company, boost productivity and export sales and improve the customer experience. SMEs ranging from e-commerce businesses, web developers and new startups will be in attendance to hear from a range of speakers who will provide 'how to' advice and insights, as well as discussing some of the broader issues facing businesses today.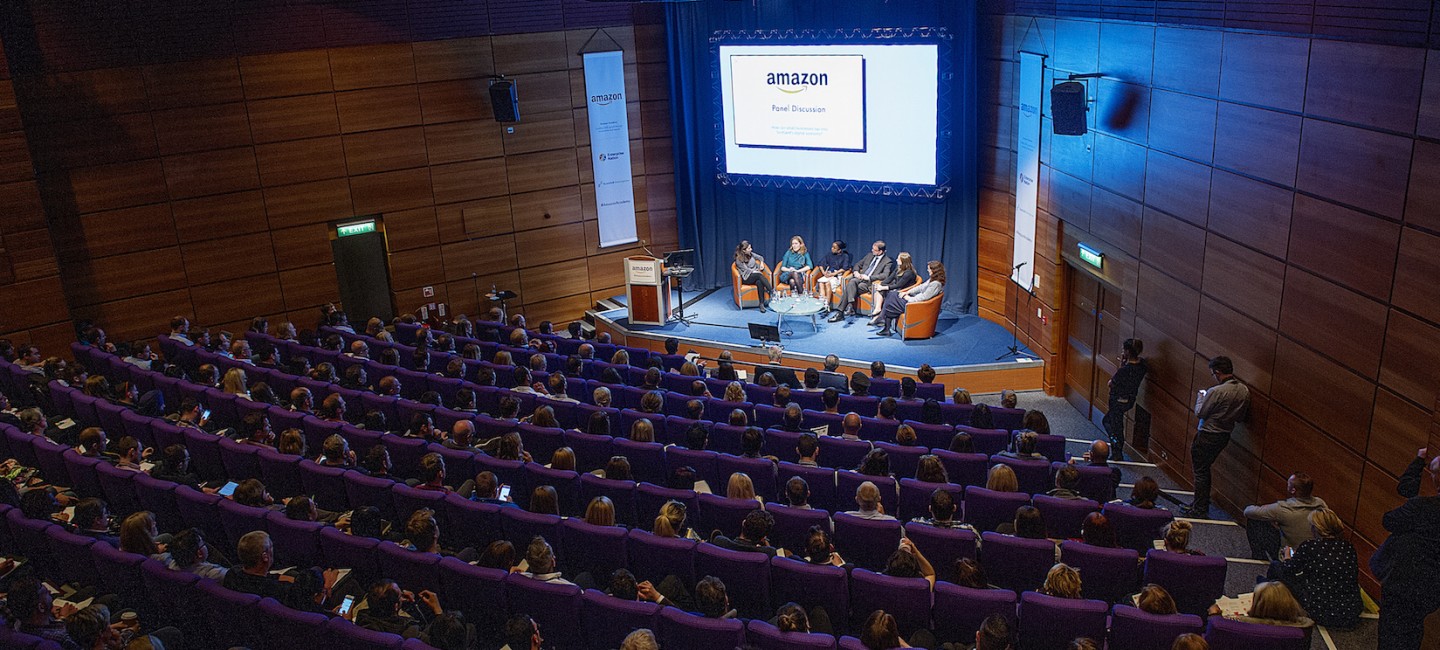 What happens on the day?
In the morning, you'll be able to find out how you can make the most of the digital opportunity as a small business, with insight from Amazon, Enterprise Nation and other independent experts and successful entrepreneurs.
Ever wondered how Amazon delivers for its customers? In the afternoon you'll have the chance to tour behind the scenes of Amazon Manchester's fulfilment centre and see what happens when you click 'buy' on Amazon.co.uk.
You'll also enjoy a networking lunch with fellow entrepreneurs and experts.
If you would like to create your Amazon Selling Account prior to the event, make sure to follow this link here.
Your Amazon Academy Agenda
09.30am: Registration and morning refreshments
10:00am: Welcome from Emma Jones MBE, founder, Enterprise Nation
10:05am: Welcome from Doug Gurr, UK Country Manager, Amazon
10:15am: Introduction to Selling on Amazon
10:45am: Marketing and advertising - How to showcase your products
11:15am: Morning refreshments
11:25am: Going global - Reach new customers across the world through Amazon
11:55am: Meet the independent experts and successful entrepreneurs who can help you grow your business – Audience Q&A hosted by Emma Jones
Amer Khan, founder, Love2Sleep
Matthew Smith, partner

and

trade mark attorney, Abel & Imray
Kelly Greenhalgh, founder and chartered accountant, Greenhalgh Accountancy
Richard Jeffery, director of business growth, Growth Company
Sally Moss, e-commerce marketing specialist, UPGS
12:35pm: Introduction to Amazon's fulfilment network
12:45pm: Lunch, networking and tour of the Amazon fulfilment center, Manchester
If you have any dietary requirements please list this in the registration form. Tours will begin every 10 minutes and will last 30 minutes. Tour times are allotted on a first come first served basis on the registration form.
All guests must wear flat, closed-toe and closed-heel shoes (no sandals or high heels). We recommend wearing comfortable shoes/trainers. Hair which falls below the shoulders should be tied back.
3.00pm: Event ends
How to get there
You can find 'MAN1' on Google maps here https://goo.gl/maps/TvuuZ1DzrJZ4Ey4h7
Directions
Leave the M56 at junction 6, and when coming off the slip road turn on to Wilmslow Road in the direction of Wilmslow.
At the second set of traffic lights (Costa Coffee) turn right for Airport City which leads into Sunbank Lane. Follow the road and travel round the 1st roundabout.
Continue straight ahead and you will pass DHL on your right.
At the next roundabout, you should continue on taking the third entrance taking the spiral to level 8 of the carpark. Once parked please make your way down the stairwell to the ground floor reception to sign-in.
Disability parking is available on the ground floor, please follow the entrance to the guest parking.
Our team of ambassadors will be on hand to help and direct you safely. Don't hesitate to call MAN1 reception on 0161 903 1800 for directions.
Shuttle bus
A shuttle bus will be leaving Manchester Airport train station at 9am and 9.20am, please look out for the team directly outside the front of the station.
About Enterprise Nation
Enterprise Nation is the UK's most active small business network and we have helped thousands of people turn their good idea into a great business.
Enterprise Nation membership gives you access to exclusive opportunities to grow your business and connects you with like-minded entrepreneurs and business experts who can help. Membership is just £10 a month and you can cancel at any time.