Description
Amazon is a growing marketplace and this intensive course is designed to bring new sales opportunity to your business. This course is comprehensive and will concentrate on equipping delegates with proven skills and techniques that they can implement immediately in their own business.
Supply chain is important to succeed on Amazon Marketplace. We will discuss how to establish a successful supply chain within the UK. We have now partnered with trusted Chinese suppliers and we are happy to share this information with you. This can be a profitable alternative to Alibaba.
This is a perfect workshop for start-up and growing on-line business. It is tailored to suit your business needs and there will be opportunity to discuss your individual company specific examples. We are expecting you to go with a prepared action plan to start & grow your business with Amazon.
Who is this workshop suited to?
Digital Marketers, Directors, Managers
What will you learn ?
Product Sourcing from China
Arbitrage software - Is it really useful ?
Dropshipping - Is this a viable business model ?
Setting up an Amazon Store
Listing new products and existing products
Understanding Amazon policies
Keeping Good Amazon Performance
Maximising the use of the Amazon Keywords
Analyse sales, traffic, listings & Seller Report for strategic decision making
Re-marketing Amazon customers to maximise profit
Is it good to create a Unique Product Listings for existing products ?
How Fulfilment by Amazon (FBA) benefit your business ?
Expanding to European Market and beyond
---
Just a few of the fantastic organisations who've attended our previous training.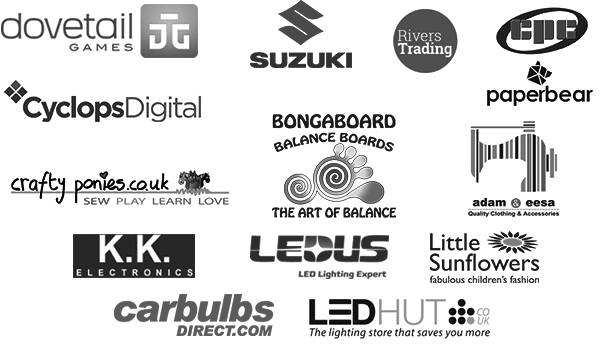 | Laura, Ledhut
Prahbat is incredibly knowledgeable about Amazon, outlining key areas such as sponsored listings, search terms, Pan-European strategies and best practices.
The class size too was great: only 5 on my particular day which gave us the chance to ask questions and look at all our live feeds. Going forward, the information provided will no doubt enable us to grow our marketplaces in the UK and beyond. I will certainly be returning for future events.
| Quy, Ledus
Thoroughly enjoyed the event, very informative and detailed on different aspect and techniques used on Amazon. Learnt many new strategies, particularly the campaign management and search terms and has boosted my product views and margins by a good 30%. People was very friendly and on hand to share their experiences and knowledge on the subject matter. Will definitely attend future events.
| Angela Morris, Doordecorandmore
The advice we received was very personal to us! Our company has been selling on Amazon for a couple of years, but felt that I needed to get more involved in this side of things. I left the course with my head full of ideas, and a "To do" list – all things that need to be done! I'm sure I'll be attending another of the courses at some point in the future.
| Juan, Bavoo
The Amazon Sellers course is definitely worth attending. Prabhat certainly knows his stuff when it comes to online selling. In addition, he was more than happy to answer all of our questions in a confident and friendly manner. The course covered all of the fundamentals required to be a professional seller on Amazon. We left feeling far more confident.
---
Can't make it to Manchester or looking for bespoke course? We are happy to provide onsite Amazon training to you and your team. Call us on 029 2236 2596 or 0751 88 39629
Please note by booking a ticket to this event, you agree to our event T & Cs ( Please Read )

--------------------------------------------------------------------------------------
For more details please contact Prabhat Shah on twitter @OnlineSellerUK, via email to ps@onlineselleruk.com or you can call +44 (0) 29 2236 2596
Organised by Online Seller UK in Partnership with We Are Digitl