Description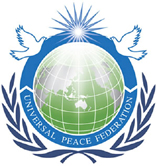 Considering the Relationship of Religion and Politics
Ambassadors for Peace, UPF Members and Friends of UPF
43 Lancaster Gate, London, W2 3NA
Last Tuesday of Every Month
6.00 pm Refreshments & 6.30pm Start
All are welcome to a Universal Peace Federation (UPF) meeting held on the last Tuesday of the month. It is primarily aimed at those who have known the UPF for a long time but we welcome new friends as well.
In recent years the Universal Peace Federation has inaugurated two sub-groups under its umbrella. One is the International Association for Parliamentarians for Peace and the other is the Inter-religious Association for Peace and Development. Robin Marsh will make a presentation about the inter-relationship of religion and politics and how they might function more effectively. This is one of the most important governance issues to be resolved whether on a national or supra-national level. Universal Peace Federation from its founding documents has seen religion as a uniting rather than a divisive, force. However, this does not mean religious leaders who exhibit institutional self-centredness or who would ostracise either non-believers or those who fall short of specific religious ideals.
Religious leaders who have an inclusive compassion, an appreciation of the life's sacred value and a global ethical consciousness bring thinking that is difficult for politicians. Religious leaders, being accountable to their faith and conscience, focus on a longer term mutual co-prosperity and inter-dependence. They seek to resolve past wrongs and encourage actions that will receive God's Blessing and the trust and respect of other nations. They aspire to that most difficult and elusive notion of seeking God's viewpoint without colouring it with their own agenda based on their background including, but not limited to, their own nationality, race, religion and gender.
Politicians do bring an acute sense and many skills to attribute resources effectively according to national or local government policies. Politicians are accountable to their electorate and must either appeal to voters self-interests or present a compelling reason for delaying gratification of their elector's desires. The Foreign Aid budget for example has been under fire because it offers 0.007% of Gross National Income for the sake of impoverished people in far off lands. How that should be spent has always been controversial.
When can there be a healthy respect between politician and religious leaders? How do religious leaders gain that respect? What circumstances may make it more harmonious and effective?
We look forward to seeing you. Kindly RSVP to attend.
Kind regards,
Robin Marsh: UPF-UK Secretary General Mobile: 07956210768
Margaret Ali: UPF-UK Director Mobile: 07723024750
Joyce Suda: UPF-UK Director Tel: 07903311052
Universal Peace Federation (UPF) - UK
Office: 02072620985
www.uk.upf.org @ukUPF pa@uk.upf.org
UPF is an NGO in General Consultative Status with the Economic and Social Council of the United Nations
YouTube Channel