Description
Join us for the second in our 'Ambassadors Lecture Series' with a lunchtime talk from Dame Rosalind Marsden
Dame Rosalind Marsden will talk about her career as a British diplomat with a particular focus on her experience in conflict zones, including Afghanistan, Iraq, Sudan and South Sudan. She will also speak about her subsequent career as an EU diplomat and then as a political analyst and consultant specialising in Sudan and South Sudan. The Ambassador will speak for 40 minutes, after which there will be time for a Q&A.
Dame Rosalind Marsden started her diplomatic career as an Asia specialist. She studied Japanese at the School of Oriental and African Studies and the British Embassy language school in Kamakura (Japan) before serving twice in the British Embassy in Tokyo over a period of eight years. She later served in Germany and in a variety of posts in the Foreign and Commonwealth Office in London, including as Deputy Head of the Hong Kong Department, Head of the UN Department and Director for the Asia-Pacific region. She later served as the Consul-General in Basra (Southern Iraq), Ambassador to Afghanistan and Ambassador to Sudan. In 2010 she retired from the FCO and was appointed as the EU Special Representative for Sudan and South Sudan, based in Brussels but travelling frequently to the region.
Since her EU mandate ended in 2013, Dame Rosalind has been an Associate Fellow of the Africa Programme at Chatham House and the Senior Adviser on Sudan at the Centre for Humanitarian Dialogue, a Geneva-based conflict mediation organisation. She is a Board member of Conciliation Resources and Concordis International (both of which are peacebuilding NGOs), Waging Peace (a Sudan-related human rights NGO), and the Friends of Ibba Girls' School in South Sudan. She is also an Honorary Fellow of Somerville College, Oxford.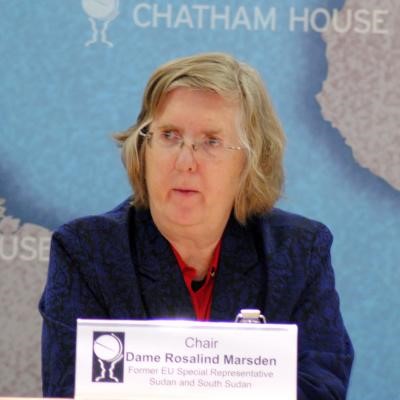 Any questions? Get in touch:languages@citylit.ac.uk