Ambrose Parry (Brookmyre / Haetzman) ~ Falkirk Storytelling Festival 2018
Description
Ambrose Parry is a collaboration between bestselling author Christopher Brookmyre and Medical Historian Marisa Haetzman. We're thrilled to launch Falkirk Storytelling Festival's 2018 adult programme with this event celebrating their first historical mystery, The Way of All Flesh, set in Edinburgh, 1847 – a city of medicine, money and murder.
About the authors
Ambrose Parry is a pseudonym for a collaboration between Chris Brookmyre and Marisa Haetzman. The couple are married and live in Scotland.
Chris Brookmyre is the international bestselling and multi-award-winning author of twenty-one novels, including Black Widow, winner of both the Theakston Old Peculier Crime Novel of the Year and the McIlvanney Prize for Scottish Crime Novel of the Year.

Dr Marisa Haetzman is a consultant anaesthetist of twenty years' experience in the NHS with a Master's degree in the History of Medicine.
About The Way of All Flesh
Young women are being discovered dead across the Old Town, all having suffered similarly gruesome ends. In the New Town, medical student Will Raven is about to start his apprenticeship with the brilliant and renowned Dr Simpson. Simpson's patients range from the richest to the poorest of this divided city.
His house is like no other, full of visiting luminaries and daring experiments in the new medical frontier of anaesthesia. It is here that Raven meets housemaid Sarah Fisher, who recognises trouble when she sees it and takes an immediate dislike to him. She has all of Raven's intelligence but none of his privileges, in particular his medical education.
With each having their own motive to look deeper into these deaths, Raven and Sarah find themselves propelled headlong into the darkest shadows of Edinburgh's underworld, where they will have to overcome their differences if they are to make it out alive.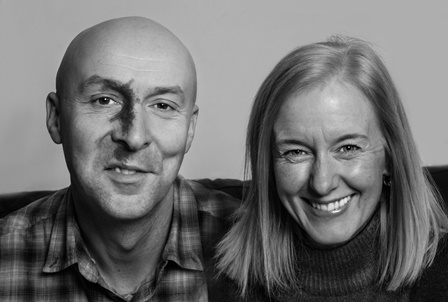 > See more Falkirk Storytelling Festival events on Eventbrite
> Visit the Falkirk Storytelling Festival website
---
FAQs
I can no longer attend. What should I do?
So that someone else can use your place, please return your ticket. You can go into your .Eventbrite account (click your account picture in the top right, go to your orders and return the tickets). Alternatively, drop us an email at falkirklibraries@gmail.com
What are my transport/parking options for getting to and from the event?
By train: Falkirk Grahamston train station is just 5 minutes from Falkirk Library and is connected to Glasgow, Edinburgh and Stirling
By bus: Most local bus services stop at Newmarket Street, which is less than 5 minutes walk to the library.

By car: There is no parking at Falkirk Library, however there is a car park directly across from the Library at Garrison Place which is free after 3pm.
I already own a copy of the book, can I bring it along to be signed?
Of course!
Will there be food or drink be available?
There will be some some light refreshments available - a small donation towards the cost of these would be much appreciated.
Is Falkirk Library disabled friendly?
Lift access is available to all floors. A disabled bathroom is at the entrance and on the main, second floor. If you require any advice or assistance on the day a member of staff will be pleased to assist.
Are guide dogs welcome?
All registered guide dogs, hearing dogs and medical alert dogs are welcome. We ask everyone to respect the owners and their animals. No other animals or pets are permitted.
Will my photograph be taken or will I be filmed?
By attending this event you are agreeing that Falkirk Community Trust and select members of the press can use your image within their media production.
Who do I contact with any questions?
Email libraries@falkirkcommunitytrust.org, call 01324 506800, or contact us on Facebook or Twitter .