A 90 minute facilitated, open group discussion, for artists and arts organisers in the UK, exploring Change and Political Representation
About this event
Join us for the second in a series of group discussions around effective ways for Artists to Make Change.
This event is for artists and arts organisers in the UK who are interested in the realm of how artists can effectively work for change.
Should artists be involved in the political system? How can artists be political representatives? What are the challenges facing artists as politicians? In this discussion, facilitated by Ross Jardine, artist & political and policy advisor at the Greater London Authority, we will explore:
how art and politics mix
how to become a political representative
how artists can benefit the political process
how can you mix an art practice with being a political representative or policy advisor
and more!
This discussion session runs in parallel to a presentation by Lena Šimić and Tim Jeeves - be sure to the watch the video before joining the discussion to get the most out of the experience.
The presentation by Lena and Tim can be accessed by clicking HERE
---------
Artists Make Change is a 12 month R&D project designed and delivered by the Artist Council of a-n The Artist Information Company - exploring ways for artists to make change, and advocating for the role of artists and a society that understands the value of artists.
For more events, presentations, texts & resources see: Artists Make Change
Ross Jardine is an artist with an interest in administrative and policy-making structures, specifically their often overlooked but vital role within institutions and everyday life. He works at the Greater London Authority as a political and policy advisor. Jardine collaborates with Andrea Francke as part of Future of the Left, which is currently developing an evaluation framework for the Gasworks Galley's participatory residency programme: Connecting Communities. He works with Matthew de Kersaint Giraudeau on Radio Anti, a temporary FM and digital radio station that hosts conversations and develops research on 'how things come to be'.
Lena Šimić is a Reader in Drama at Edge Hill University. Originally from Dubrovnik, Croatia, Lena identifies herself as a mother of four boys, transnational performance practitioner, pedagogue and scholar. A co-organizer of the Institute for the Art and Practice of Dissent at Home, an art activist initiative in her family home in Liverpool, UK. Lena is currently researching contemporary performance and the maternal, mainstream politics and environmental performance.
Tim Jeeves is currently a Visiting Lecturer at Liverpool Hope University. He has been making performance work for the last 15 years, with a particular focus on how the narratives around disability and health are formed and shared, and between 2011 and 2016, directed the ACE supported Giving in to Gift festival, 'an ongoing conversation around ideas of generosity and reciprocation'. He is currently contributing to a major research project, commissioned by the Live Art Development Agency and undertaken in close dialogue with Arts Council England, that examines the histories and futures of the Live Art sector.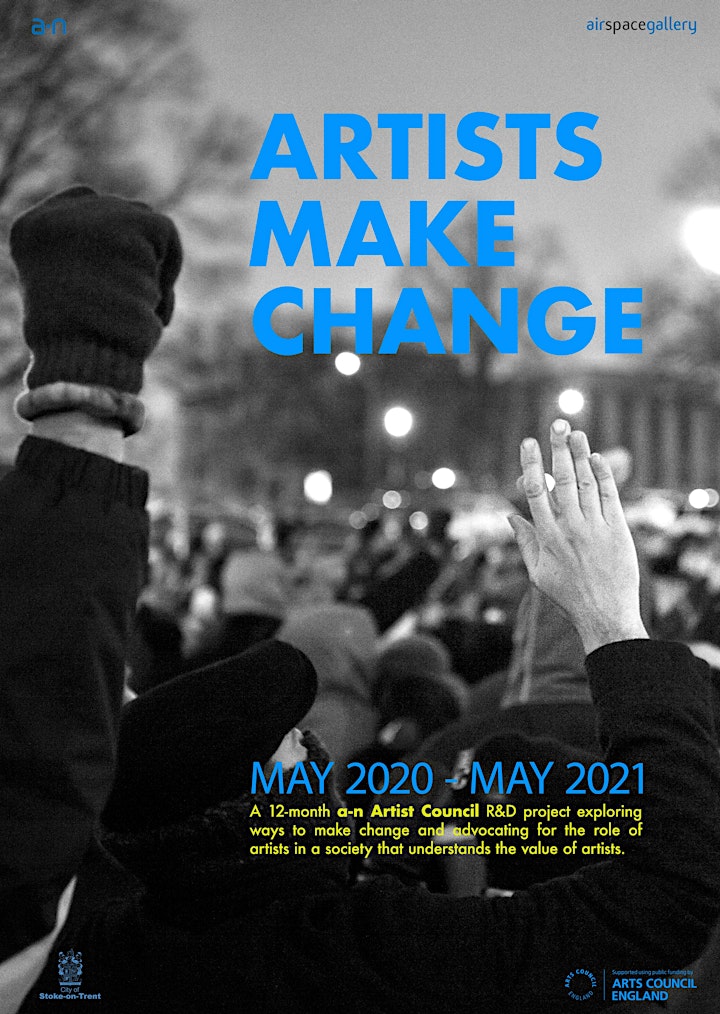 Organiser of AMC - Discussion - Making Change through Political Representation
AirSpace Gallery is a collaborative, artist led project in Stoke-on-Trent, providing professional development opportunities, studio and exhibiting space and support for artists.
Through a dynamic and evolving programme of exhibitions, events and activities AirSpace Gallery brings critical, high quality contemporary art to the region and provides opportunities for a broad range of artists.