Description
New for 2017: trans-Atlantic rhythms from old time country to bluegrass, with Tom O'Donnell, Pistol Pete & Dave Wearn, Lindyhoppers and others.

Tom O'Donnell - from West Virginia to Rothbury, Tom is a professional musician who has been singing since he was a teenager. He describes himself as the 'exotic American', doing unusual material.
Pistol Pete Wearn - Named Moonshine Magazine's solo blues artist of the year in 2015/16, Pistol Pete has toured around the UK, including a five-day run at the Edinburgh Fringe in 2016. His 'blues holler' style has been labelled "music to drink, dance and stomp your feet to". Armed with an acoustic guitar, a stompbox and occasionally a harmonica, expect some earthy down-home bluegrass and Memphis-infused country blues - with a risk of some 'Great Balls of Fire' breaking out somewhere along the line...

Dave Wearn - is a singer-songwriter, recently returned to his Northumbrian homeland. His influences are wide ranging and contemporary, whilst his own cool, thoughtful songs have a natural country-rock influence that slips down as easily as a Bourbon on ice.
And more... further details to be added shortly.

Venue: the Northumberland Hall is on the 1st floor, overlooking the Market Place. Access is via a flight of stairs or by lift.
Drinks bar available.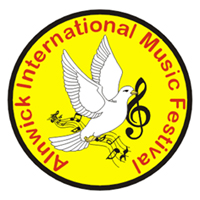 Check our website http://www.alnwickmusicfestival.com/ for more details of all our events.