AMII 2020: The Virtual Health & Wellbeing Summit
Sales Have Ended
Registrations are closed
Registrations for this event have now closed. This event may be repeated at a future date. To receive notification of future AMII events and webinars, please contact: michael.payne@amii.org.uk
Sales Have Ended
Registrations are closed
Registrations for this event have now closed. This event may be repeated at a future date. To receive notification of future AMII events and webinars, please contact: michael.payne@amii.org.uk
90 minutes packed with information and presentations for those involved in the health insurance, health cash plans and wellbeing services.
About this Event
Bringing AMII 2020 directly to you
The AMII 2020 Health & Wellbeing Summit on 18th November will now be an online event.
We have had to make this decision because of the continuing uncertainty surrounding live conferences and Covid-19.
In place of our usual one-day conference and exhibition in London, we have put together a virtual event which will be a fast paced and information packed online webinar, lasting no more than 90 minutes.
In addition to an opening address from AMII Executive Chairman, Stuart Scullion giving his reflections on 2020 and looking at what lays ahead for the health and wellbeing sector, we will have short presentations from three Guest Speakers.
Our first Guest Speaker is Iain Anderson, Executive Chairman at Cicero/AMO. Iain is an expert in integrated communications, global political risk and public policy. He will provide a short powerful overview of the current political and economic environment, both in the UK and across the world, with a particular focus on the economic impact of Covid-19 and what that means for the UK's financial services and healthcare sectors. Iain will also touch on the results of the US Presidential Election and how that could impact on any US/UK trade deal; and also his thoughts on the likely outcome of the Brexit negotiations with the EU, including impacts on the insurance sector in areas such as Contract Continuity and Equivalency.
Iain will be joined by Dr Edward Burns MBChB, MRCPsych, MSc, Consultant Psychiatrist & Clinical Director for Private Outpatient and Wellbeing Centres at The Priory Group. Dr Ed Burns presentation will focus on Covid-19 and Mental Health from the viewpoint of employers, looking at how businesses can meet their duty of care to their employees, especially those who may still be working from home and employees returning to a very different workplace. Dr Burns will also explain how people might access mental health support, including new digital platforms, and show how health insurance advisors can support their Corporate and SME clients develop a mental health strategy for their business and employees.
Our final speaker is Barry Waring, Head of Broker Distribution at YuLife, the digital life insurance provider. Barry's presentation will focus on 'Putting the Life back into Client Conversations' - showing how YuLife is used and valued every day by thousands of employees, from forming a new habit to accessing a counsellor or virtual GP for support. Barry will explain ways of creating engaging and fun health and wellbeing programmes, providing analysis of advanced game mechanics and AI which produces valuable HR insights for your clients.
Meet The Presenters: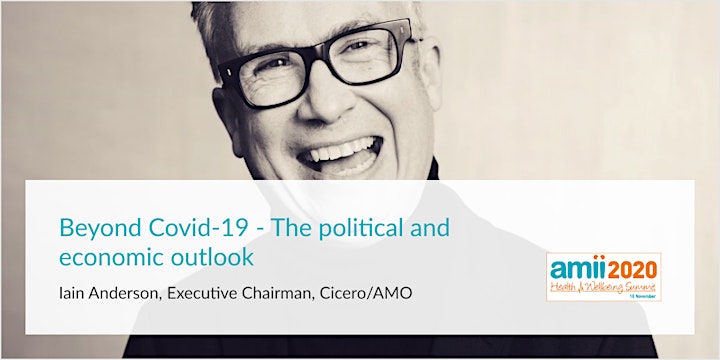 Iain Anderson
Executive Chairman, Cicero/AMO
Iain is an expert in integrated communications, global political risk and public policy.
He has over 25 years' experience in communications, initially as a business journalist. He has also worked for a range of politicians, including Rt Hon Kenneth Clarke MP on his leadership bids.
Iain is Executive Chairman at Cicero Group/AMO, where he focuses on public policy and corporate communications strategy supporting many global FTSE and Fortune 500 blue chip organisations. He provides CEO and Board level counsel.
He is a Non-Executive Director of Innovate Finance - the member body for the global fintech sector. He is one of the Financial Times/OUTstanding Global 100 Executives. Iain is immensely proud to be a Stonewall Ambassador.
Iain regularly contributes to national and international print and broadcast media including Sky News and BBC. He is also contributing Political Editor of Square Mile.
In his spare time, Iain describes himself as a tennis geek, an Arsenal season ticket holder and an opera nut.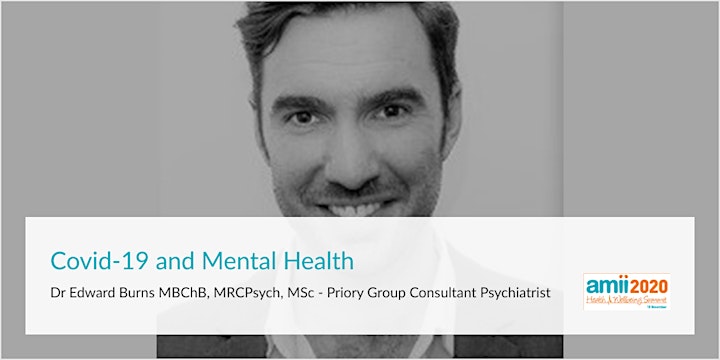 Dr Edward Burns MBChB, MRCPsych, MSc
Priory Group Consultant Psychiatrist & Clinical Director for Private Outpatient and Wellbeing Centres
Dr Burns has been a doctor since 1999. He has specialised in Psychiatry since 2003 and has been a Consultant since 2011. Prior to specialising in psychiatry he worked in a variety of medical settings, including a number of A&E departments, and understands the importance of considering physical health problems in the context of people's mental health.
His current role within Priory includes a clinical practice at the Priory flagship hospital Roehampton, as well as a Clinical Director role for the Group's private outpatient and wellbeing centres.
Prior to working at the Priory Dr Burns was a Consultant Psychiatrist in South West London & St George's Mental Health NHS Trust. He has worked as a medical manager before and after becoming a Consultant as a "Darzi Fellow" and an Associate Medical Director. These leadership roles have instilled a desire to ensure he is involved in continually improving services so that everyone may benefit.
Dr Burns is dedicated to helping facilitate recovery for patients and involving families and carers in this process.
Further details of our remaining Guest Presenters will be announced here over the coming weeks.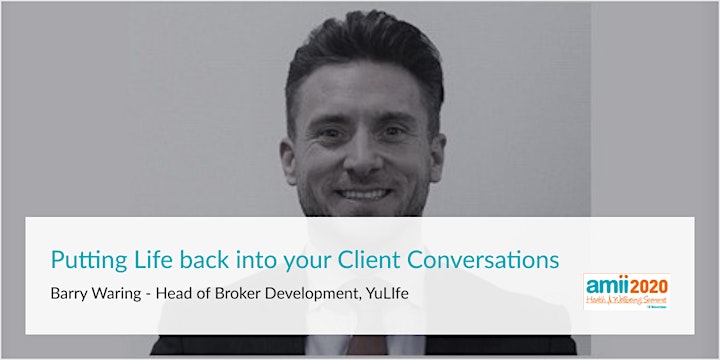 Barry Waring
Head of Broker Distribution, YuLife
As Head of Broker Distribution at YuLife, Barry is passionate about the Group Risk market, having previously worked at Omnilife for 9 years, whilst also being the Chairman of 'The Raising the Profile' Committee for GRiD, the Group Risk markets trade body.
He is passionate about health and fitness, and was due to compete in his first Iron Man triathlon in June this year. Unfortunately this was postponed, however, he has continued with his training and regularly can be seen on his road bike in the Surrey hills, regardless of the weather. He has a passion for leaning and inconstantly either listening to or reading books.