Amoo Booster Series: Thinking Critically About Customer Experience (Mobile...
Description
Our past events have featured some of the world's leading entrepreneurs, venture capitalists and technology professionals discussing current themes affecting the successful growth of startups and the commercialization of their technology. Join us as we discuss how to put customers first when creating your product or service offering.
The event will feature two global business leaders with backgrounds in advertising and creating successful digital communities. The panel experts shall focus on investment, mobile advertising and user experience:
18:30 Registration & Networking
19:00 Welcome note by Goodman Derrick
19:10 Introduction by Amoo Venture Capital Advisory
19:15 Panel Discussion followed by Q&A Session
20:00 Networking and Refreshments
22:00 Close
The event will be a great primer for start-ups keen to learn UX paradigms for mobile devices. Help make our meetups happen by inviting friends and colleagues. Our event hashtag is #AmooEvents
Panel Bios:
Russell Buckley, Investor and Board Advisor to Start-Ups, BallPark Ventures

Russell (@RussellBuckley) is an Investor with BallPark Ventures (www.ballparkvenutres.com) and Board Advisor to start-ups including LoopMe Media. Russell was first employee at AdMob, responsible for launching AdMob in EMEA and is known as 'The Godfather of Mobile Advertising'. AdMob was sold to Google for $750m and Russell became VP Global Alliances at Google focused on mobile advertising and has overseen thousands of campaigns since 2000. Prior to AdMob Russell was Director Marketing at location based advertising service ZagMe. Russell has been Global Chairman of the Board of The Mobile Marketing Association, a founder of Mobile Monday in Germany, is a regular speaker on mobile at conferences throughout the world and has published many articles, as well as a white paper on location based marketing. Before specializing in mobile, he spent over 15 years working in marketing, including advising leading brands such as Coca-Cola, Diageo, Texaco and Mars. Russell is currently investor in and advisor to technology start ups. He is most likely to say "The mobile will do to the PC, what the PC did to the mainframe", "exponential" and "No thanks, I'm a vegetarian"

Stephen Upstone, CEO & Founder, LoopMe Media

Stephen (@StephenUpstone) has worked in mobile advertising since 2006 as Managing Director Europe for Ad Infuse (sold to Velti) and then VP Sales and Business Development Europe for Velti after the acquisition. Stephen was at Velti for the successful NASDAQ list in 2011 and part of the senior management team in New York to ring the opening bell. Velti raised $300m and reached over $1bn in market cap. Whilst at Ad Infuse & Velti Stephen created new business and opened offices in UK, France, Spain, Holland, Italy, Portugal building a multi-million dollar business across the region with leading companies such as Vodafone, Orange, T Mobile, Sky and Daily Mail. Stephen was Co-Chair of the MMA Global Advertising Committee and Member of the IAB Mobile Advertising Committee and is a frequent commentator and speaker on mobile advertising and marketing. Stephen has over 18 years experience in advertising and technology. Prior to Ad Infuse Stephen worked at Touch Clarity (sold to Omniture), FirstCapital, Universal McCann and Lowe Howard Spink. Stephen is a graduate in Mathematics & Philosophy from Manchester University. Stephen enjoys cycling, walking, tennis and the rare occasions that Spurs win.
Nzube Ufodike, CEO & Founder, Amoo Venture Capital Advisory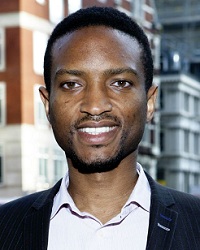 Nzube (@Nzube) is the founder of Amoo Venture Capital Advisory. His professional experience covers technology, entrepreneurship and finance. He founded Amoo in 2009 to support exceptional SMEs seeking growth capital. Previously, he worked in finance roles in global investment banking and asset management desks covering fixed income, portfolio management, risk, strategy, macro economics and client relationships. As part of Nzube's commitment to building strong and healthy communities, he volunteers and works with community-oriented projects that invest in developing human capital and nurturing talent for example by serving as a board advisor to SIFE, QMUL chapter (an international non-profit that works with leaders in business and higher education), and to MoDiSe (tech company that focuses on health care delivery for underserved urban and rural populations in developing countries). He speaks at and organises events in London and West Africa, and holds Computer Science undergraduate and postgraduate degrees from Queen Mary, University of London.
Sponsored by:
Goodman Derrick provides specialist legal services to entrepreneurs, their businesses and their investors. We understand that cash resources for growing businesses are at a premium, so we help entrepreneurs to focus on the key legal issues to achieve their investment and growth objectives. We pride ourselves on providing practical and creative advice designed to contribute to our clients success.
Amoo Venture Capital Advisory is an accessible team of professionals with intercontinental experience and expert know-how in a range of finance and technology specialisms relevant to raising venture capital for high potential tech companies. We support pre- and post-VC technology start-ups with advisory services and fund raising. We are geographically interested in OECD and Emerging Markets.
Continue the conversation on our LinkedIn Venture Capital & Private Equity Network. This Networking group serves business leaders, entrepreneurs, startup founders/CXOs, investors, academia, captains of industry, corporations, technology transfer offices, innovation professionals, service providers, and policy makers with an interest in technology entrepreneurship, investing and innovation. Build, learn, interact and share ideas.
Organizer of Amoo Booster Series: Thinking Critically About Customer Experience (Mobile Perspective)