Description

A Unique Event
Each year, AMRA invites Ahmadi researchers, professionals, enthusiasts and anyone with a desire to increase in knowledge to come together for a memorable event. The AMRA conference is a unique, open forum where informative presentations, interactive discussions and future collaborations all take place.
This year's programme is the most ambitious yet, where Ahmadi men and women from across the world are coming together to discuss a variety of topics, from economics, political science, medicine, archaeology, astronomy and more.
Celebrating 10 Years
To celebrate the 10th anniversary of AMRA, we are holding our first International AMRA Conference, inviting not just researchers and students, but all professionals that are interested in contributing to the human frontiers of knowledge and understanding.
Whether your interest lies in engineering, business, politics or teaching, if you have a wish to learn and understand from those who are experts in their respective fields, then this is an opportunity that cannot be missed.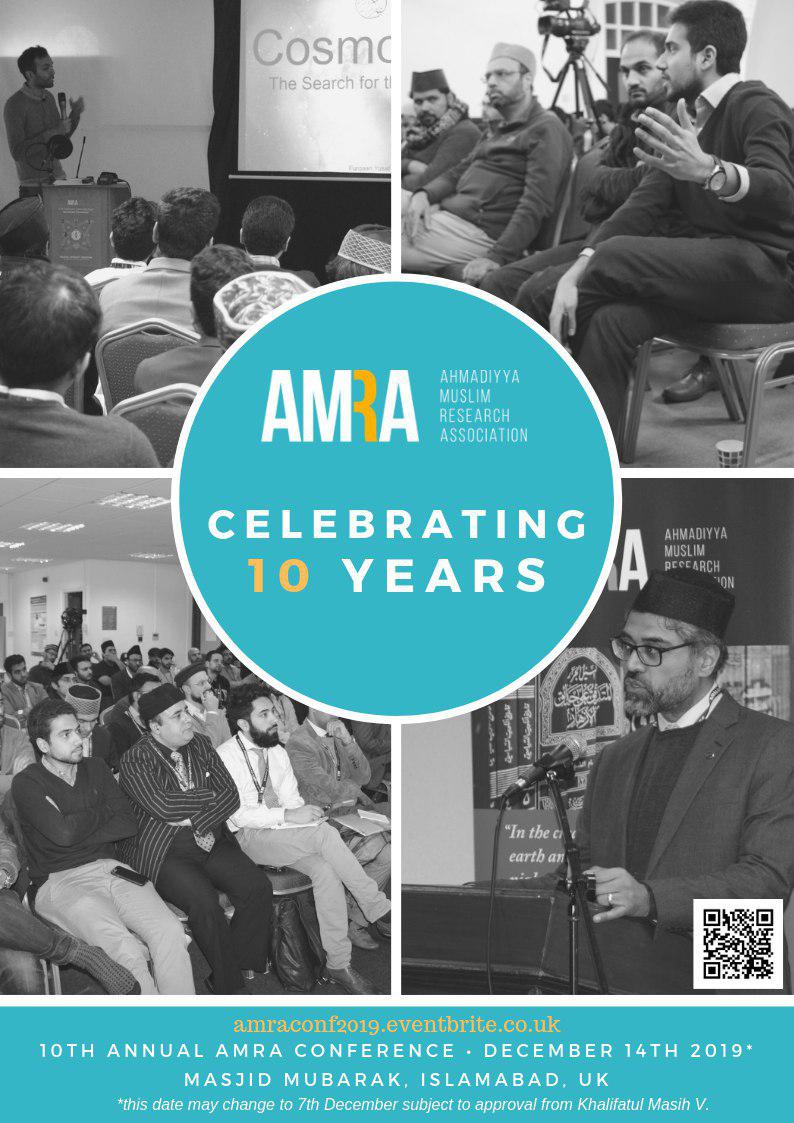 Conference Programme
The full programme is currently being finalised and will be published here next week. Speakers from USA, Canda, West Africa and Europe have already committed and will join delegates from across the UK to bring a truly fascinating programme.
Other than talks, sessions will include panel discussions, interactive seminars and the opportunity to view special exhibitions.
A request has also been sent to Huzur (aba) to attend.
Open to All
This year's conference is open to anyone and everyone, including Ansar, Lajna and Khuddam. Places are limited however - ensure your place is reserved by booking now!
Fuel the Mind
Breakfast, lunch, dinner, refreshments, tea and coffee will be served throughout the conference to ensure minds stay focused all day!
We look forward to welcoming you there, Insha'Allah.
Any Assistance Needed? Get in Touch
Please note that all brothers and sisters coming from outside of the UK will have accommodation and food, as well as transport to and from the conference venue. Please indicate whether you require accommodation and transport on the registration page.