Description
An amazing tour to Maldon's annual Vintage Christmas Fayre - Thursday 28 November 2019 and St Mary the Virgin Church.
City Steps 4 Churches Tour funded by Action for Bow
Thanks to an Action for Bow Grant, City Steps Guided Tours is organising a number of visits to local Churches in Bow followed by an amazing final visit to St Mary the Virgin Church in Maldon and Maldon's annual Vintage Christmas Fayre on Thursday 28 November 2019.
Most of our Churches Tours are FREE, held on a Tuesday or Thursday during November and open to all Bow residents age 50 and over. Unfortunately our Maldon and the Christmas Fayre Tour is not free, however, it is a mere £3 per person.
Contact us for more information by TEXTING your FULL NAME and POSTCODE to: 07860021262. Or Visit our Eventbrite page by searching for 4 Church Tour and City Steps Guided Tours.
St Mary the Virgin Church Maldon
St Mary the Virgin Church Maldon - stands above the Hythe Quay in Maldon, Essex estuary since 1130. It's famous lantern acted, for centuries, as a navigational aid to seafarers and the church is still known as the sailors' church today. http://visitmaldon.co.uk/the-hythe/
St Mary's church which stands on higher ground has foundations dating back to the 12th century. The church spire was a welcoming beacon for sailors returning home to their berths at the Hythe quay or alongside the bath wall. Find more details of the church
St Mary's Ln, Maldon CM9 5JB https://www.explorechurches.org/church/st-mary-virgin-maldon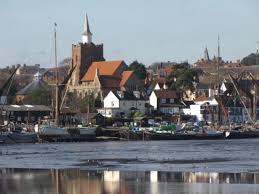 MALDON VINTAGE CHRISTMAS FAYRE
Maldon's High Street will come alive on Thursday November 28/9 2019 with a special Vintage Christmas Fayre event between 4pm and 9pm.
This year's theme is the Swinging Sixties. The High Street will be closed to make way for various stalls and entertainments. The action starts at 4pm and Maldon's Town Mayor will turn on the Christmas lights.
There will be late night shopping plus a street market, choirs, music, hospitality hosted by the local shops and competitions. Saint Fm will be putting on a variety of entertainment from the big stage which will be near All Saints' Church on the High Street and Santa will be in his Winter Wonderland at the bottom of Brights Path/Old Mill Close.
If you fancy dressing for the evening, this year's theme is the Swinging Sixties and a prize will be awarded to the best dresed visitor.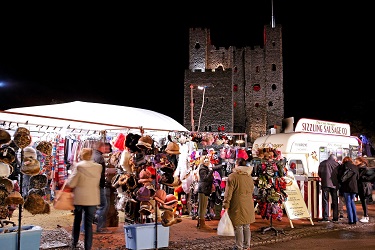 St Mary Holy Trinity Church Bow
Recently open to the public during Open House weekend:
Open House London - Bow Church - St Mary
"Open House London: Free Entry to London's best buildings. Every September, we give a unique opportunity to get out and under the skin of London's amazing architecture, with over 800 buildings of all kinds opening their doors to everyone – all for free. Bow Church - St Mary - Medieval village church, restored in late 19C and after bomb damage in WWII. 15C font and memorials from five centuries. Grade II* listed. Refurbished for 700th anniversary in 2011; the bell tower and cupola were restored in 2017-18.."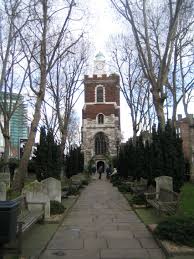 The Epainos Ministries / Holy Trinity Tour
"Holy Trinity Church was built to form the focus of planned residential development around Rhondda Grove of c.1840, formerly Cottage Grove. Although initially built as a chapel, it came to serve the parish of Mile End Old Town in 1841. Its well-preserved churchyard, which closed to burial in 1853, was refurbished in 1886/7 as Holy Trinity Garden by the MPGA. Numerous headstones remain in their original positions with clear inscriptions. The garden has C20th railings set in original Portland stone coping on a parapet wall and there are notable lime trees on the south side of the garden."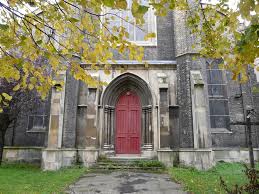 BOOK FOR TUESDAY 19 NOVEMBER TOUR AT 12.30PM
The Epainos Ministries / Holy Trinity tour is open to Bow residents age over 50 and over, their family and friends. Please meet 12.30 pm at the Holy Trinity church entrance on Morgan Street, London, E3 5AA (2 mins from Mile End Tube Station and just off Grove Road)
CITY STEPS GUIDED TOURS ALSO OFFERS COURSES FOR TOWER HAMLETS RESIDENTS AGE 50 AND OVER.
FREE TASTER WORKSHOPS for would be CHILDMINDERS
Over 50 years young? Unemployed? Living in Tower Hamlets? Join our TASTER BECOMING A CHILDMINDER FOR BEGINNERS FREE Workshop session. Find out how you can become an accredited Childminder leading to a training course which could help earn extra cash whilst providing a valuable service as par of the gig economy.
City Steps Guided Tours is running workshops as part of a Tower Hamlets & ESF initiative to help over 50's into work or into self-employment.
Contact us at the Tredegar Centre E3, for more information: Email: citystepsguidedtours@gmail.com, or TEXT your first name and a contact number TO 07860021262. Workshops begin in November.