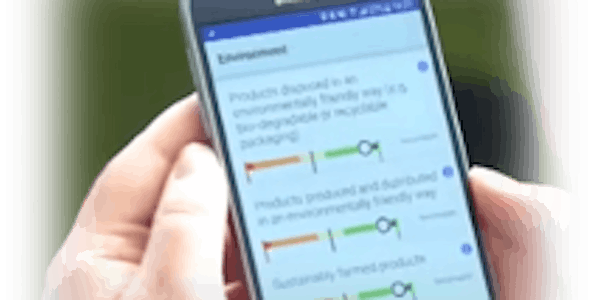 An App to support the discovery and choices of more sustainable products
An App to support the discovery and choices of more sustainable products: How value-sensitive design can empower sustainable consumption
About this event
SEMINAR POSTPONED
Due to unforeseen circumstances, this GFEI seminar will be postponed and a new date will be arranged for later in the year.
The Global Food and Environment Institute (GFEI) is delighted to invite you to join our February 2022 webinar 'A novel App to support the discovery and choices of more sustainable products: How value-sensitive design can empower sustainable consumption'
During this talk, Dr Evangelos Pournaras will highlight the findings from his research in this area.
In a so-called overpopulated world, sustainable consumption is of existential importance. However, the expanding spectrum of product choices and their production complexity challenge consumers to make informed and value-sensitive decisions. Recent approaches based on (personalized) psychological manipulation are often intransparent, potentially privacy-invasive, and inconsistent with (informational) self-determination. By contrast, responsible consumption based on informed choices currently requires reasoning to an extent that tends to overwhelm human cognitive capacity. As a result, a collective shift towards sustainable consumption remains a grand challenge. Dr Pournaras will show here a novel personal shopping assistant implemented as a smartphone app that supports a value-sensitive design and leverages sustainability awareness, using experts' knowledge and 'wisdom of the crowd' for transparent product information and explainable product ratings. Real-world field experiments in two supermarkets confirm higher sustainability awareness and a bottom-up behavioural shift towards more sustainable consumption. These results encourage novel business models for retailers and producers, ethically aligned with consumer preferences and with higher sustainability.
Dr Pournaras won best paper for this groundbreaking piece of research at the GFEI Food and Agriculture Awards 2021.
Welcome and introductions from the Chair, followed by a 20-minute webinar presented by Dr Evangelos Pournaras, Associate Professor at Distributed Systems Services group, School of Computing at the University of Leeds, and 10 minutes for Q&A.
Dr Pournaras is also currently a research associate at UCL Center of Blockchain Technologies and an Alan Turing Fellow. His research interest focuses on distributed and intelligent social computing systems with expertise in the inter-disciplinary application domains of Smart Cities and Smart Grids.
The seminar will be chaired by Dr Michelle Morris, University Academic Fellow - Health Data Analytics, University of Leeds.