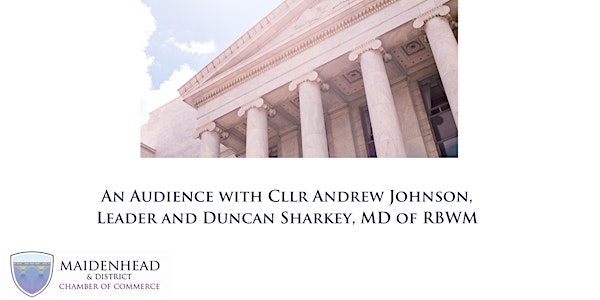 An Audience with Cllr Andrew Johnson, Leader and Duncan Sharkey, MD of RBWM
Maidenhead & District Chamber of Commerce quarterly Q&A session with RBWM
About this event
As part of the Chamber's RISE programme we have arranged virtual "An Audience with RBWM" sessions to be held every quarter and this is the first event of 2022!
This enables our members to hear RBWM's comments on a wide range of topical issues first hand. Chamber President Mike Miller will be hosting and asking the questions which will all be submitted to RBWM in advance.
Any Maidenhead & District Chamber of Commerce member can ask a question in advance by emailing your question to President@maidenhead.org.uk end of business on 3rd February 2021.
The proposed agenda includes:
1. Welcome by Mike Miller, Maidenhead Chamber President
2. Opening statement by RBWM Leader Cllr Andrew Johnson
3. Opening statement by Duncan Sharkey RBWM MD
4. Update on RBWM budget for 2021/2022
5. RBWM handling of the COVID pandemic – comment on current situation in schools and forward plans.
6. Comment and update on structural building developments in the town including: The Landing, Nicholson Quarter, St Cloud Gate, Plans for Clyde House in Reform Road – home of My Work Spot, the Maidenhead & District Chamber of Commerce and thirty other businesses. Comment on Waldeck House, Braywick Leisure Centre – has the move from Magnet been successful?, Maidenhead Golf Club site, Claires Court planning proposals – identifying alternative sites?, Other Maidenhead building developments
7. RBWM Advantage card status
8. Current status of the RBWM neighbourhood plan
9. Relations generally with Central Government? Is two way communication effective?
10. Closing remarks by Andrew Durrant
11. Closing remarks by Andrew Johnson
12. Closing remarks by Mike Miller, Maidenhead Chamber President
A recording of the meeting held in Q4 2021 can be found on the Chamber website https://www.maidenhead.org.uk/chamber-news/
Please note that this is an event open to anybody who lives and/or works in RBWM or the surrounding areas, however only our members will be able to submit questions in advance.
If you would like to join the chamber details on how to join can be found here https://www.maidenhead.org.uk/join-the-chamber/
Organiser of An Audience with Cllr Andrew Johnson, Leader and Duncan Sharkey, MD of RBWM