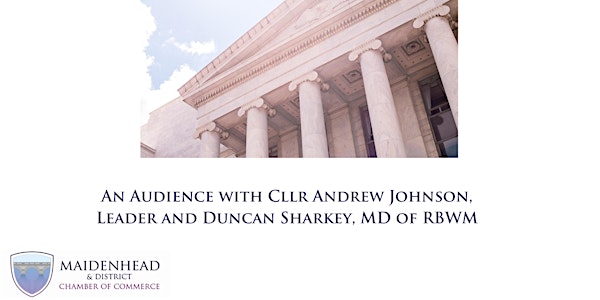 An Audience with Cllr Andrew Johnson, Leader and Duncan Sharkey, MD of RBWM
Maidenhead & District Chamber of Commerce quarterly Q&A session with RBWM
About this event
As part of the Chamber's RISE programme we have arranged another virtual "An Audience with RBWM" session to be held on Thursday 9th June at 11.45am.
This enables our members to hear RBWM's comments on a wide range of topical issues first hand. Chamber President Mike Miller will be hosting and asking the questions which will all be submitted to RBWM in advance.
Any Maidenhead & District Chamber of Commerce member can ask a question in advance by emailing your question to President@maidenhead.org.uk by noon on Wednesday 8th June 2022.
Please note that this is an event open to anybody who lives and/or works in RBWM or the surrounding areas, however only our members will be able to submit questions in advance.
If you would like to join the chamber details on how to join can be found here https://www.maidenhead.org.uk/join-the-chamber/