Join Nikki Gamble for an in-depth conversation with author Elizabeth Laird.
About this Event
I am delighted to be launching a curated programme of online events celebrating writers and illustrators of exceptional repute.
Each guest has been invited for their outstanding contribution to the world of children's literature and for the exceptional quality of their writing and illustration. Audience involvement is encouraged. You can submit questions in advance and become an active participant in the event or simply enjoy the chat.
Join me for in-depth discussions exploring exceptional careers in literature and some memorable celebrations. All from the comfort of your armchair.
Elizabeth Laird is an award-winning writer for children whose work is infused with a strong sense of social justice and adventure.
Her books feature many of the places that she has lived and travelled to. Elizabeth is known for her adventurous spirits and she keeps her audiences enthralled with stories of her many expeditions. She has taught in Malaysia and Ethiopia, and following her marriage lived in Iraq and Lebanon during the Civil War. She has written about this experience in her novel, Oranges in No Man's Land. 
Other novels include Kiss the Dust, A Little Piece of Ground, Welcome to Nowhere and A House Without Walls. Elizabeth has also collected and retold folk tales from Iraq, Iran and Ethiopia. A book for adults The Lure of the Honeybird is an account of her travels in Ethiopia. Elizabeth supports the Mandala Trust, a British charity working to support refugees in Jordan.
Ticket options include event with a copy of A House Without Walls and a signed bookplate or event only without book.
The ticket price includes Eventbrite fees and postage and packing for the with book option.
Please note international bookings are only available without the book. Please choose your option carefully
Full-time students can apply for a subsidised student ticket without a book to wil@justimaginestorycentre.co.uk Verification of student status is required. Student ticket is £7.50 and includes Eventbrite fees.
IMPORTANT INFORMATION - once you have booked you will receive an email with a link to register for this event. When you register you will receive the access link and you use this link to join the event. Please register in advance so there are no last-minute access issues. In the event that you do not receive an email with the registration link, contact assistant@justimaginestorycentre.co.uk and they will be able to help you. If there are less than 48 hours to the event and you have not heard from us you can assume that our email has gone astray and you should get in touch. Unfortunately, when the event is in process we are not available to answer emails.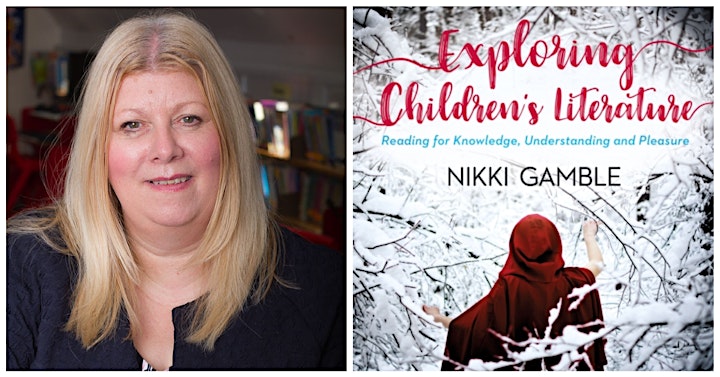 Nikki is the Director of Just Imagine Story Centre. She is the author of Exploring Children's Literature (4th edit) (2019) and co-author of Guiding Readers (2016) Nikki is Honorary Fellow at the University of Winchester.