An evening with Julia Green, children's author and Emeritus Professor of Writing for Young People at Bath Spa University
About this Event
I am delighted to be launching a curated programme of online events celebrating writers and illustrators of exceptional repute.
Each guest has been invited for their outstanding contribution to the world of children's literature and for the exceptional quality of their writing and illustration. Audience involvement is encouraged. You can submit questions in advance and become an active participant in the event or simply enjoy the chat.
Join me for in-depth discussions exploring exceptional careers in literature and some memorable celebrations. All from the comfort of your armchair.
Julia Green is the author of more than 20 novels for young people.
From the teenage novel Baby Blue about 16-year-old Mia coping with a new baby to the survival story The Children of Swallow Fell, her books are infused with warmth, compassion, a love of nature and humanity. Julia is the perfect guest to cheer us in the deep midwinter.
Julia studied English & American Literature at the University of Kent in Canterbury, and went on to do an M. Phil in English Studies 1798 – 1880. She has a creative writing PhD from Bath Spa University where she founded the MA Writing for Young People. As the former Course Director, she nurtured many children's writers through the writing process to publication.
She is now is Emeritus Professor of Writing for Young People at Bath Spa University.
She says 'love to spend time in wild, remote places, especially the islands of the Outer Hebrides and the Northumberland coast.'
Ticket options for this event with a signed copy of The Children of Swallow Fell or without a book are available.
Ticket price includes Eventbrite fees and postage and packing for with book option.
Please note international bookings are only available without the book. Please choose your option carefully
Full-time students can apply for a subsidised student ticket without a book to wil@justimaginestorycentre.co.uk Verification of student status is required. Student ticket is £7.50 and includes Eventbrite fees.
IMPORTANT INFORMATION - once you have booked you will receive an email with a link to register for this event. When you register you will receive the access link and you use this link to join the event. Please register in advance so there are no last-minute access issues. In the event that you do not receive an email with the registration link, contact assistant@justimaginestorycentre.co.uk and they will be able to help you. If there are less than 48 hours to the event and you have not heard from us you can assume that our email has gone astray and you should get in touch. Unfortunately, when the event is in progress we are not available to answer emails.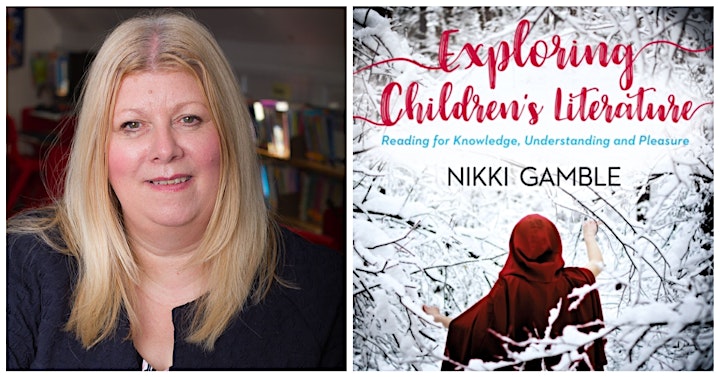 Nikki is the Director of Just Imagine Story Centre. She is the author of Exploring Children's Literature (4th edit) (2019) and co-author of Guiding Readers (2016) Nikki is Honorary Fellow at the University of Winchester.