Event Information
Refund Policy
Refunds up to 30 days before event
Nikki Gamble presents ' An Audience with … ' an evening of in-depth discussion with authors and illustrators of outstanding repute.
About this Event
Nikki Gamble presents 'An Audience With …'
10 events, 10 authors, 12 signed books, 1 subscription.
Quite simply and honestly … one of the most magical evenings of my life.
Martin Galway, Quiet Fireworks blog
Imagine Jeremy Paxman but friendly.
Elen Caldecott, writer
I am delighted to be launching a curated programme of online events celebrating writers and illustrators of exceptional repute.
Each guest has been invited for their outstanding contribution to the world of children's literature and the exceptional quality of their writing and illustration. Audience involvement is encouraged. You can submit questions in advance and become an active participant in the event or join in the post-event chat on the dedicated 'An Audience With…' community board.
Join me for in-depth discussions exploring exceptional careers in literature and some memorable celebrations. All from the comfort of your armchair.
This event is for adults and is likely to interest educators, librarians, publishers, writers, booksellers, researchers and students with an interest in children's literature.
International tickets are available with adjustments for postage an packing. Please purchase the correct subscription. If you are not from one of the regions listed, please email us for further pricing information assistant.literature@gmail.com
A limited number of student places are available on verification of student status at £100. To apply contact assistant.literature@gmail.com
After booking, you will be sent a link to register for this event. You will need to register in advance.
EVENT SCHEDULE
24th November 7.00 – 8.30
Alex Wheatle is the author of several acclaimed novels, many of them inspired by experiences from his childhood. He was born in Brixton to Jamaican parents and spent most of his childhood in a Surrey children's home. Following a short stint in prison following the Brixton uprising of 1981, he wrote poems and lyrics and became known as the Brixton Bard. Alex has been longlisted for the Carnegie Medal, won the Guardian Children's Fiction Award, and was awarded an MBE for services to literature in 2008 Alex has been shortlisted for the NSK Neustadt Prize for Children's Literature, a highly prestigious international award presented for a writer's contribution to children's literature. 12 Years a Slave director Steve McQueen has made a drama about Alex's life for the BBC/Amazon which will be premiering in November. I am thrilled to be welcoming Alex as the first guest in the' Audience With...' online series. Subscribers will receive a copy of Cane Warriors and signed bookplate
3rd December 7.00 – 8.30
Chris Van Allsburg is my special guest for this festive edition of 'An Audience With…'
Chris is the highly acclaimed American author and illustrator of children's books including The Mysteries of Harris Burdick and the Caldecott Medal winners, Jumanji and The Polar Express and Caldecott runner up The Garden of Abdul Gazzi. He has been a U.S. nominee for the Hans Christian Andersen Award, regarded as the highest international recognition for creators of children's books. Film credits include writing and producing Jumanji, The Polar Express, and Jumanji :The Next Level. Subscribers will receive a copy of Polar Express with a signed bookplate and the bonus book Queen of the Falls.
7th January 7.00 – 8.30
Julia Green is Emeritus Professor of Writing for Young People at Bath Spa University where she was the former Course Director for the MA Writing for Young People. She has nurtured many children's writers through the writing process to publication. Julia has written over 20 books. From the teenage novel Baby Blue about 16-year-old Mia coping with a new baby to the survival story The Children of Swallow Fell, Julia's books are infused with warmth, compassion, a love of nature and humanity. Julia is the perfect guest to cheer us in the deep midwinter. Subscribers will receive a copy of The Children of Swallow Fell and a signed bookplate.
4th February
Sita Brahamchari is a multi-award-winning author for children. She has an MA in Arts Education and a background in Theatre Education including a celebrated adaptation for stage of Shan Tan's The Arrival. Sita's first novel, Artichoke Hearts won the Waterstone's Children's Book Award. Further novels include Kite Spirit, Corey's Rock (illustrated by Jane Ray), Where the River Runs Gold and most recently the historical novel When Secrets Set Sail, which is based on the Ayah's Homes that were established in the early 20th century to house destitute ayahs abandoned by British families when they were no longer needed. Sita has been an Amnesty International Ambassador and is former Writer in Residence at the Islington Centre for Refugees and Migrants. Sita is one of the World Book Day authors for 2021. Subscribers will receive a copy of When Secrets Set Sail and a signed bookplate.
25th February 7.00 - 8.30
Kevin Crossley-Holland is a highly acclaimed poet, translator, and award-winning author of children's books. He has translated Beowulf from the Anglo-Saxon and is well-known for his retellings of folk tales, myths and legends including Between Worlds : Folktales of Britain , Norse Myths : Tales of Odin, Thor and Loki and Norse Tales: Stories from Across the Rainbow Bridge. The first book in his Arthur trilogy, The Seeing Stone won the Guardian Children's Fiction Award, the Smarties Prize Bronze Medal, and the Tir na n-Og Award. Kevin was awarded the 1985 Carnegie Medal for Storm, short fiction for younger children and the book was included in the Anniversary Top Ten, voted for by librarians.
His collaborations with composers include two operas with Nicola Lefanu (The Green Children and The Wildman); song cycles and setting of carols with Sir Arthur Bliss, William Mathias and Bob Chilcott, The Girl from Aleppo written for the National Children's Choir with Cecilia McDowall He is a patron of the Society for Storytelling and immediate past President of The School Library Association (2012-2017).
Join me in celebrating Kevin Crossley-Holland's 80th birthday in this special event where we will be looking at his extraordinary lifetime achievement.
Subscribers will receive a copy of Norse Tales: Stories from Across the Rainbow Bridge a signed bookplate and something extra special in honour of Kevin's 80th birthday (it's not cake!).
4th March 7.00 – 8.30
David Wiesner joins me in a reprise of a World Book Day event held in 2020, this time with a brand new picturebook to extend the discussion. David is an American writer and illustrator particularly well-known for his wordless (and near-wordless) books, Tuesday, Flotsam, Sector 7 and Mr Wuffles. He is a three-time recipient of the Caldecott Medal for illustration and was the US nominee and finalist for the 2008 Hans Christian Andersen Award, regarded as the highest international recognition for creators of children's books. More recently David has turned his creative talents to telling wordless stories digitally, Spot is an app published by Houghton Mifflin. In January 2017, a retrospective exhibition entitled David Wiesner and The Art of Wordless Storytelling was mounted at the Santa Barbara Museum of Art. David's new book Robobaby will be published in November 2020 Subscribers will receive a copy of Robobaby and signed bookplate.
8th April 7.00 – 8.30
Nicola Davies is a zoologist and writer whose work includes nonfiction, poetry and fiction, which characteristically features the natural world. Nicola was one of the original presenters on the BBC children's wildlife programme The Really Wild Show and she is former tutor on the Bath Spa MA in Writing for Young People. She has published over 80 books for children and worked with top illustrators, Laura Carlin, Neal Layton, Jane Ray, Emily Sutton, Salvatore Rubbino and Cathy Fisher. Nicola is passionate about connecting children with nature. Her urban fairy tale The Promise (Laura Carlin illus.) has been made into an animated film by Climate Story Lab and will be screened on the BBC in October 2020. 3000 copies of The Promise will be distributed to economically disadvantaged children as part of the project. Nicola is also a talented artist and in 2020 Tiny Owl published her first self-illustrated book, Last: The Story of a White Rhino – a real-life story about wildlife conservation. Subscribers will receive a copy of Last and a signed bookplate.
6th May 7.00 – 8.30
Elizabeth Laird is an award-winning writer for children who has been nominated for many awards. Her work is infused with a strong sense of social justice and adventure. Her books feature many of the places that she has lived and travelled to. Elizabeth is known for her adventurous spirits and she keeps her audiences enthralled with stories of her many expeditions. She has taught in Malaysia and Ethiopia, and following her marriage lived in Iraq and Lebanon during the Civil War. She has written about this experience in her novel, Oranges in No Man's Land. Other novels include Kiss the Dust, A Little Piece of Ground, Welcome to Nowhere and A House Without Walls. Elizabeth has also collected and retold folk tales from Iraq, Iran and Ethiopia. A book for adults The Lure of the Honeybird is an account of her travels in Ethiopia. Elizabeth supports the Mandala Trust, a British charity working to support refugees in Jordan. Subscribers will receive a copy of A House Without Walls and a signed bookplate.
3rd June 7.00 – 8.30
David Almond is a British writer how was awarded the highly prestigious Hans Christian Andersen Award in 2010 in recognition for his lifetime contribution to children's literature. The jury described him as 'a creator of magical realism for children' with 'a unique voice' that 'captures his young readers' imagination and motivates them to read, think and be critical.' This unique voice appeared fully formed in David's debut children' s novel, Skellig which won the Carnegie Medal and has been adapted for the theatre and for film. Other books published to critical acclaim include Kit's Wilderness, The Fire Eaters, Clay, My Name is Mina, A Song for Ella Grey and The Colour of The Sun. He has also produced graphic novels, The Savage, Slog's Dad and Mouse Bird Snake Wolf with Dave McKean and a stunning lyrical picture book The Dam with Levi Pinfold. Subscribers will receive a copy of The Brand New Boy a signed bookplate plus the bonus book The Dam.
1st July 7.00 – 8.30
Join me to celebrate the 25th anniversary of Melvin Burgess' Junk, a book dealing homelessness and heroin addiction on the streets of Bristol which caused outrage when it was first published. Despite that it received critical acclaim winning both the Carnegie Medal and Guardian Fiction Prize. Melvin is no stranger to controversy, pushing the boundaries by addressing taboo subjects head-on in novels such as Sara's Face, Nicholas Dane, Doing It and Lady My Life as a Bitch. His style is unflinching and always on the side of the teenager. Indeed, he provokes adults to remember – weren't you a teenager once? What was it like for you? Bloodsong and Boodtide, two novels about warring gangs that control the city of London was based on the first part of the Icelandic Volsunga Saga. A new novel, Three Bullets will be published in July 2021.
Join me in celebrating Melvin's contribution to children's literature and the 25th anniversary of Junk. Subscribers will receive a copy Three Bullets and a signed bookplate.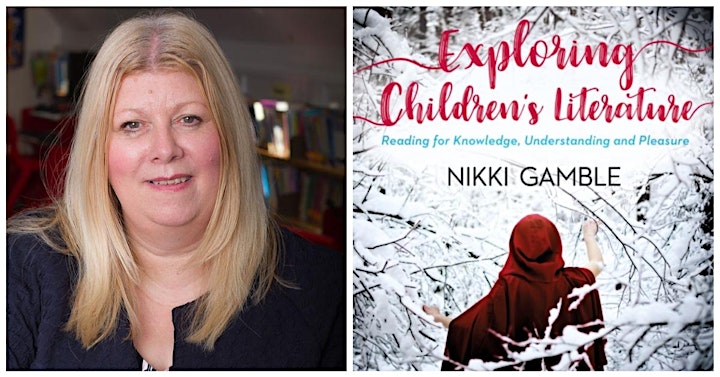 Nikki is the Director of Just Imagine Story Centre. She is the author of Exploring Children's Literature (4th edit) (2019) and co-author of Guiding Readers (2016) Nikki is Honorary Fellow at the University of Winchester.
Date and Time
Location
Refund Policy
Refunds up to 30 days before event