Description
During this sessions, Luca will share his personal story which already inspired many and which has direct and important references to growth, breaking away from uncomfortable moulds and progress. Luca will also then discuss practical growth strategies and tactics he used to build and sell three businesses and, in the most recent four years, build a digital marketing agency from the ground up, starting off with one client and a tiny team.
Today that agency - Genie Goals - manages digital marketing activities for global brands like Calvin Klein, Hackett London, Mamas & Papas, Hughes Electrical, Amara Living, Dwell and many more. They run marketing campaign globally in 10 different languages and won a Google award for fast growth. This year they are finalists for a further 5 awards.

In this session Luca will break down not only what they did to grow to this point but also what these brands do to grow and, most importantly, what anybody can do to grow. This cocktail will include personal development, strategies, attitude and a very exciting long Q&A all about growth.

There will be a 30 minutes Q&A session to give you the opportunity to ask more in-depth questions around the areas of personal and professional growth, progress and strategies to build a business. Don't miss out, come prepared with questions.

About the Workshop
Speaker: Luca Senatore

Date/Time: Thursday 08-Feb-2017 at 18:30
Venue: Eversheds, Kett House, Station Road, Cambridge, CB1 2JY
Networking on arrival over snacks and refreshments (wine, juice and more)
Parking available on site
Speaker – Luca Senatore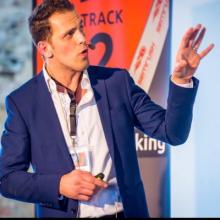 Luca is a dynamic speaker and digital marketing professional rated #5 Top International Digital Marketing Expert and #21 Most Influential Digital Marketing Expert 2015 and 2016. He is also a qualified Mind Coach and a life-long martial artist competing to this day in top level Mixed Martial Arts matches.
Luca is known for his high-energy and action-packed speaking style. He shares content at key events worldwide helping Genie Goals establish itself as thought-leader and true authority in the performance marketing sector.
Luca and his team work with clients of the likes of Calvin Klein, Karl Lagerfeld, Hackett London, Mamas & Papas, The Conran Shop, Amara Living, Polarn O. Pyret, Hughes Electrical, Dwell and more – they are one of very few Premier Partners at Google and winners of the Ready to Rock Google award.
Connect with Luca Senatore: @lucasenatore in/lucasenatore/ https://www.facebook.com/lucasenatorecambridge