An Evening of Adventure with Will Millard, Benedict Allen & Ruby Wax
Description
Joining us for our 4th annual 'Evening of Adventure' are jungle explorer and presenter Will Millard, adventurer Benedict Allen and actress and comedian Ruby Wax. Our esteemed line-up will be sharing their experiences from living with a tree-house dwelling tribe in West Papua to tracing a remote Brazilian Amazon community and a journey of discovery in the footsteps of the Beatles in India.

Proceeds of this event will support the Wild Frontiers Foundation and our new project with charity partner The Pink City Rickshaw Company, in India.

Will Millard – My Year With The Tribe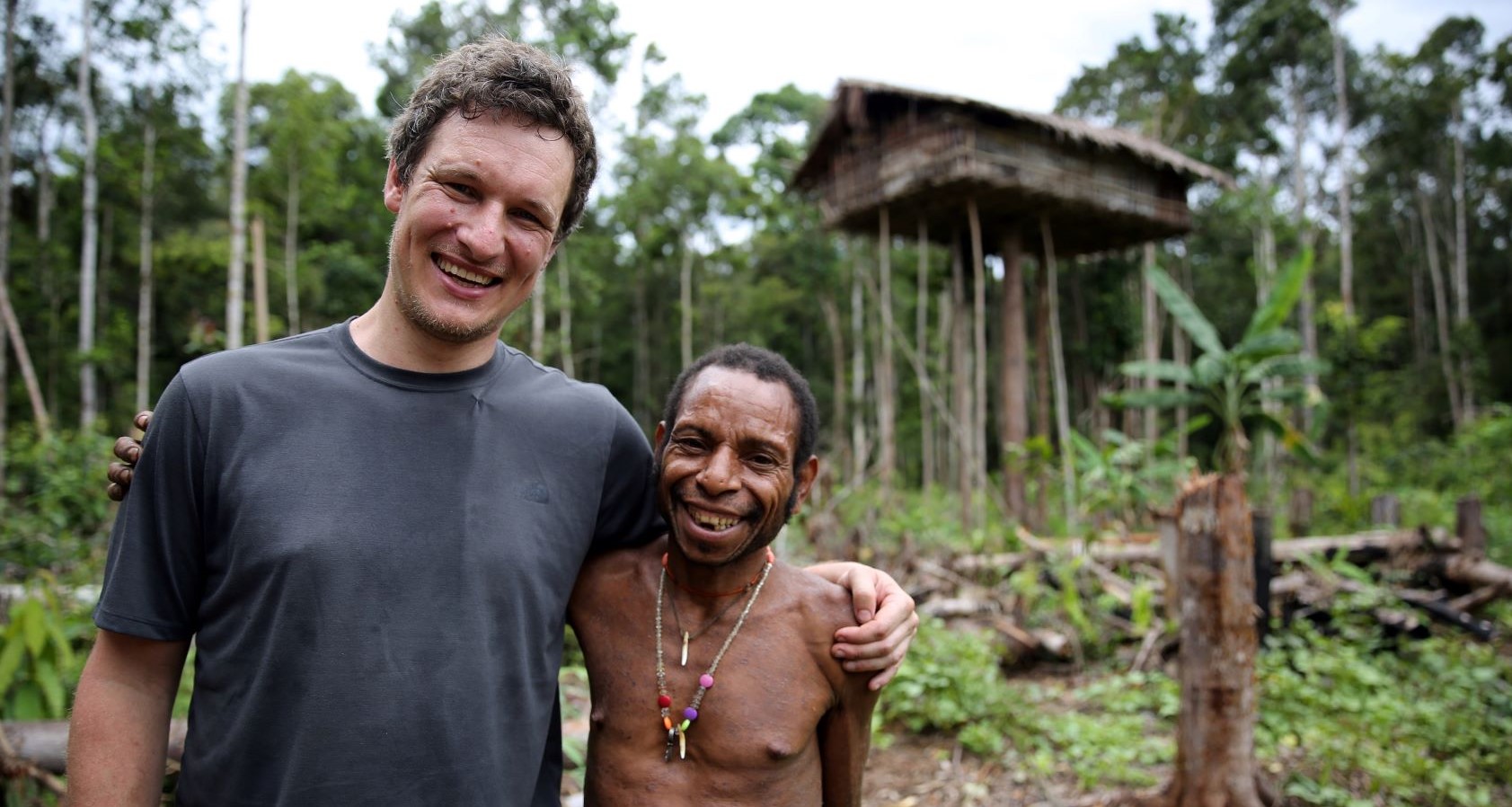 Writer, jungle explorer and BAFTA award-winning BBC presenter, Will Millard, joins us to recount the year he spent living amongst the last of West Papua's tree-house dwelling Korowai people for his acclaimed 'My Year With The Tribe' series. In an attempt to understand the people and their community as the outside world was changing all around them, Will discovered an ancient culture on the verge of disappearing without a trace.

As a specialist in remote communities of Indonesia, Will has also lived alongside aboriginal whale harpooners and subsistence hunting sea-nomads as part of his maiden BBC series 'Hunters of the South Seas'. He has received both the Royal Geographical Society's 'Neville Shulman Challenge Award' for his decade of study on the lost trade routes of New Guinea, and the 'Journey of a Lifetime Award' for his maiden solo descent of the jungle rivers that split the borders of Sierra Leone and Liberia.
___________________

Benedict Allen – Return to the Wild Lake
Old school adventurer, Benedict Allen, who has supported our Evening of Adventure for the past three years, is back by popular demand with another captivating tale. For the first time Benedict will tell the extraordinary story of his quest, just last year, to trace a remote Amazon community which once befriended him. A generation on, what had befallen Filipe, who as a young man led him upriver to the much-feared 'Wild Lake,' and what of the remarkable ten-year-old Lucy, who taught Benedict skills which would save his life? All will be revealed.

__________________________


Ruby Wax – The Swami, Pattie and Me


Photo Credit: Barcroft Media

A chance meeting led actress and comedian, Ruby Wax, on a journey of discovery across India last year in the footsteps of her musical heroes, the Beatles.
That chance meeting was with Pattie Boyd, the ex-wife of George Harrison, who had travelled with the Beatles to India in 1967, hanging out with the Maharishi in Rishikesh. All those years ago that symbolic and much publicised trip caught the attention of a young Ruby.

'I'm sure a seed was planted in my brain back then, which influenced the rest of my life, right up to my recent interest in mindfulness. So when I met Pattie, I brazenly asked her if she ever planned to return to India, and if so, could I come too? She said yes, luckily not knowing that I was once one of those hysterical Beatles fans that she probably tried to avoid.'
_______________________
Supporting charity partner – The Pink City Rickshaw Company




Proceeds from the evening will aid the Wild Frontiers Foundation and a new project with charity partner the Pink City Rickshaw Company in Jaipur, India.
The Pink City Rickshaw Company is an amazing sustainable enterprise, set up by non-for-profit organisation Access Development Services, that provides innovative employment opportunities for women from low-income households in Jaipur. The initiative aims to empower local women, break the stereotype of a woman's role in India and provide them with the chance to develop a career and even gain shares in the company.
Through purchasing tickets and attending this event, you will help fund the purchase of two new electric rickshaws and train four local women to become driver/guides, thus improving future prospects for them and their families.
_________________________
Speakers: Will Millard, Benedict Allen & Ruby Wax*
Host: Jonny Bealby, Wild Frontiers MD & Founder

When: Thursday, 31 October 2019
Where: Royal Geographical Society
1 Kensington Gore,
London SW7 2AR
Tickets: £20
Time: 7:30pm presentation
(Please note: Arrival at RGS from 6:30pm. Doors to theatre open at 7:00pm)


A cash bar will be available between 6:30pm – 7:30pm.
If you cannot make it on the night, unfortunately we are unable to offer refunds. A portion of your ticket price will still be donated towards the Wild Frontiers Foundation. *Due to the unpredictable nature of the speakers' schedules, there could be last minute changes to the line-up.
Organiser of An Evening of Adventure with Will Millard, Benedict Allen & Ruby Wax
Wild Frontiers is an award-winning adventure travel company, founded in 2002 by travel writer Jonny Bealby. We specialise in stylish and original small group tours and tailor-made holidays to the Indian Subcontinent, Central Asia, the Middle East, Europe and the Caucasus, Africa, South East Asia and Latin America.
We are firm believers that travelling is all about the experience and it's in the details – the places you stay, the transport and route that gets you there, and the people you meet along the way – that make the trip. We draw on our own extensive local knowledge and array of contacts to create authentic, extraordinary travel experiences in some of the world's most fascinating destinations.

Wild Frontiers also has its own charitable arm, the Wild Frontiers Foundation. Set up in 2009, the aim of the foundation is to provide a platform to create awareness, raise money and deliver funding to projects throughout the developing world. A contribution from many of our events aids the foundation.