Description
A very unique opportunity to taste a total of 8 award winning Champagne and sparkling wines from around the world at the very fine location of Greyfriars Hotel in Colchester during a relaxed and educational masterclass style tasting.
Christopher Walkey, who has tasted over 10,000 Champagne and sparkling wines and is founder of Glass of Bubbly, will host the evening allowing all guests to taste through the selection of 8 sparkling wines from across the world to taste and discover the story behind each.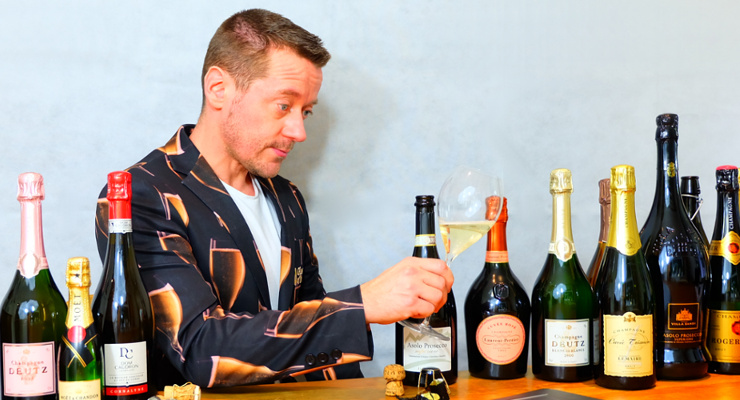 Do I have to be wine educated to attend? No! This will be a relaxed evening of both tasting and talking about the aromas and flavours of the wines in front of all attendees (maximum 15 tickets will be sold) and a brief history on each winery.
For the evening we have selected the following wines to taste:
Champagne Deutz Brut Classic
Champagne Pierre Trichet Premier Cru Blanc de Blancs
English Sparkling Wine Fox & Fox Masaic 2014
Prosecco Montelliana Asolo Superior DOCG
Slovenian Sparkling Wine Vinakoper Capris Refosk
New Zealand Sparkling Wine No.1 Family Estate Cuvée
German Sparkling Wine Kunstler 2014 Riesling Brut
South African Sparkling Wine Pongracz Rosé
BONUS WINE! The Skinny Fizz (Cava) Low Sugar Guilty Free Fizz
The wines above include Trophy, Gold, Silver and Bronze winning wines from the 2017 World's Finest Glass of Bubbly Awards that took place in Westminster: https://www.glassofbubbly.com/2017-award-results/
Christopher Walkey travels across the world tasting Champagne and sparkling wine, reviewing restaurants and delivering masterclasses to both professional and consumer audiences to include at The France Show and The Cheltenham Food and Drink Festive alongside Oz Clarke: https://garden-events.com/whatson/wine-tastings/
For any questions on this masterclass please contact Glass of Bubbly office via 01206 700888 or email eve@glassofbubbly.com