Potiphar's Apprentices are a local trio named after Charles Potiphar, the first real folk singer heard Ralph Vaughan Williams, in Ingrave.
About this event
FOLK SONGS IN ESSEX Collected by Ralph Vaughan Williams
Inspired by the story of Charles Potiphar of Ingrave, near Brentwood, and other unsung heroes of the people's music, Potiphar's Apprentices present an evening of passion, humour and stories in song from the Vaughan Williams collection and beyond. In December 1903, the composer Ralph Vaughan Williams accepted an invitation to tea at Ingrave Rectory, where he was introduced to several local singers. The next morning he visited Charles Potiphar at his cottage and collected seven songs which he described as "genuine folksongs with beautiful tunes." Over the next few years he collected 117 songs in Essex and over 800 in East Anglia and the home counties.Including the song, The Sheffield Apprentice, as sung by Charles Potiphar, the Apprentices sing songs and play tunes from across Essex – 'from Thames to Stour, from Lea to sea'.
Sue Cubbin sings and plays fiddle, along with her multi-instrumentalist husband John Cubbin. Singer, guitarist and songwriter Adrian May completes the trio. They have recorded two albums and are working on a third. Potiphar's Apprentices have recorded songs from the Vaughan Williams Essex folk song collection. Sue and John have also recorded tunes and songs from the notebooks of the poet John Clare, performing with Decent Scrapers. Adrian May, poet and songwriter currently performs with Face Furniture.
Potiphar's Apprentices came together to perform these songs so rich in poetry, drama and humour. Their show Return to Ingrave was first performed in Ingrave on the centenary of Charles Potiphar's death in 2009. "It was frighteningly easy to get into character" Beautiful melodies are sung with subtle care that distinguishes them from better known versions There is an unsullied innocence about the whole piece that transcends an entire century." - Colin Cater, Mardles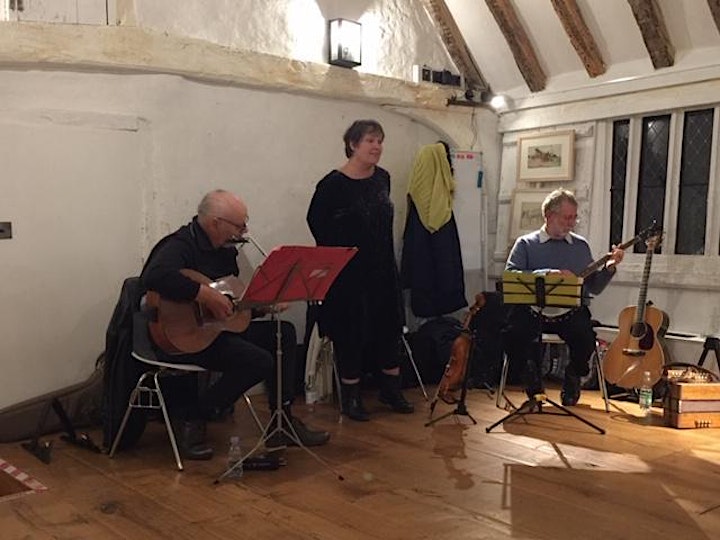 Organiser of AN EVENING OF FOLK MUSIC