Description
Join us for an evening of travel through Georgia and the Greater Caucasus with Wild Frontiers founder Jonny Bealby & adventurer Charlie Walker
Georgia is one of the most beautiful counties you are ever likely to visit. The Grand Caucasus Mountains that stretch all the way from the Black Sea coast to the shores of the Caspian are high and untamed with snowy peaks and lush green valleys that bloom in spring with a multitude of wild flowers. Eagles soar above the glaciers while wolves and bears stalk the forest floors. And among them live the Georgians, an independent race whose creed is giving and living with their delicious food and wine.
Hear more about travelling in Georgia and the greater Caucasus region from Wild Frontiers founder, Jonny Bealby, who puts Georgia high on his list of all-time favourite destinations, and guest speaker British adventurer and writer Charlie Walker.

Charlie (pictured below) will share the trials and tribulations of his 2017 expedition 'Following the Line' – skiing, paddling and cycling his way along the perceived Europe-Asia border and through the greater Caucasus, from the midwinter snowfields of the Russian Arctic to the Bosporus in Istanbul, in a world-first 5,200-mile triathlon.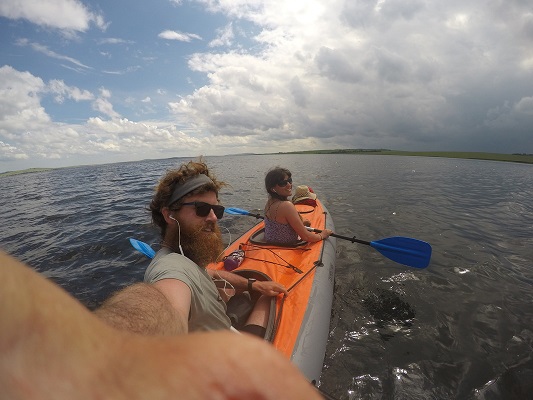 He specialises in long distance, human-powered expeditions. His longest expedition was a 43,000-mile bicycle journey reaching the furthest cape in each of Europe, Asia and Africa. He has also walked 1,000 miles solo across the Gobi desert, pony trekked 600 miles across Mongolia, and descended a little-known tributary of the Congo River in a leaky dugout canoe.
With Charlie's charismatic style of storytelling, you are in for a real treat!

When: Wednesday, 25 April 2018
Where: The Frontline Club, 13 Norfolk Place, London W2 1QJ
Time: 6:30pm for 7pm presentation
Tickets: £12 (including a drink and a donation to the Wild Frontiers Foundation)

For any inquiries please email events@wildfrontiers.co.uk


Tickets are non-refundable.