How To Academy presents... An Evening With Afua Hirsch | In Conversation With Matthew Stadlen
About this event
Columnist, barrister, filmmaker, presenter: Afua Hirsh has excelled in many fields, but one theme unites her career - fighting against the injustice she finds in the world around her.
Afua Hirsch has dedicated her life to the struggle for dignity and equality of all people.
As a young Oxford graduate she joined the Open Society Institute, working to improve democracy and human rights in West Africa.
As a barrister at the pioneering Doughty Street Chambers, she worked on legal aid cases ranging from evictions and homelessness to press freedom and international war crimes.
And as a journalist for the Guardian, Sky News and the BBC, she tells stories to expose corruption and unfairness across the globe, from the impact of illegal Chinese goldmining in West Africa to the fight to retain civil liberties in a world increasingly reshaped reshaped by the global threat of terrorism and the mushrooming of data.
But she is best known for her ground-breaking book Brit(ish) – a bestselling, award-winning account of identity and belonging in modern Britain. Why, as a British citizen, born to British parents, raised, educated and socialised in Britain, is she constantly asked where she is 'really' from? Brit(ish) is the cumulation of her lifelong quest to grapple with questions of race and belonging, revealing the identity crisis at the heart of Britain today.
In conversation with author and broadcaster Matthew Stadlen, Afua joins us to share her remarkable story and invite us to creatively reimagine the future.
Praise for Afua Hirsch's Brit(ish):
Brit(ish) is a wonderful, important, courageous book, and it could not be more timely: a vital and necessary point of reference for our troubled age in a country that seems to have lost its bearings. It's about identity and belonging in 21st-century Britain: intimate and troubling; forensic but warm, funny and wise. -- Philippe Sands
Brit(ish) brings together a thoughtful, intelligent, accessible, informative investigation on Britain as a nation not only in the midst of an identity crisis but in denial of what it has been and still is. -- Dolly Alderton
Written with passion not anger, insight rather than resentment, on the issues of race, identity and the multiple meanings of Britishness this is the book for our divided and dangerous times. -- David Olusoga
Award-winning writer, broadcaster and filmmaker Afua Hirsch is known for her work on black culture, history, identity and culture in the African diaspora and worldwide. A journalist from the age of 14, Afua has been a practising lawyer, a war correspondent, and has written multiple cover stories for Vogue, Time Magazine, and is a regular contributor to the New York Times, and the Guardian.
Matthew Stadlen is a broadcaster, writer and regular How To Academy host. Previously he was an LBC presenter, wrote The Matthew Stadlen Interview for the Telegraph and presented the TV series Five Minutes With and On The Road With for the BBC. He is a birdwatcher and photographer, and his book How To See Birds is out now. Twitter: @matthewstadlen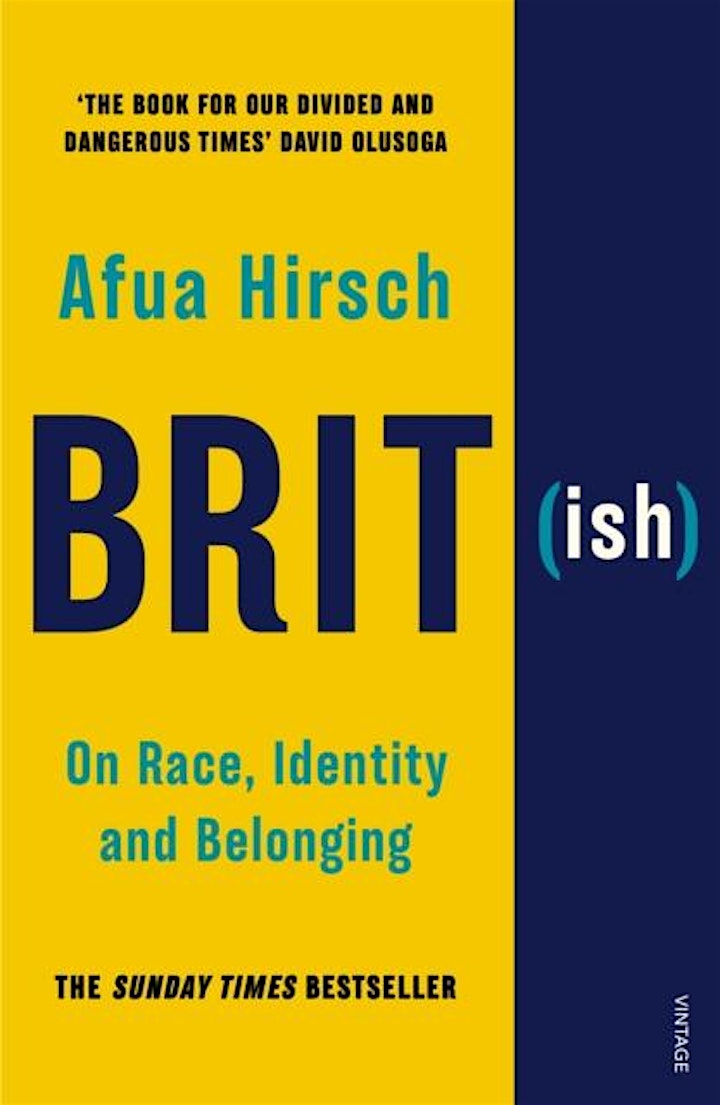 Organizer of An Evening With Afua Hirsch
How To Academy is an organisation for people who think big. From Nobel laureates to Pulitzer Prize winners, we invite the world's most influential voices to London to share new ideas for changing ourselves, our communities, and the world. 
We host leading artists and thinkers in an unrivalled programme of public talks, debates and conferences – from Yuval Noah Harari to Natalie Portman, Emma Watson to Eric Schmidt.
We help businesses discover transformative new strategies, anticipate the future, and inspire their staff with keynotes and workshops by internationally-acclaimed economists, psychologists, politicians, and thought leaders. 
We offer masterclasses live and online with experts in essential twenty-first century skills, like leadership, public-speaking, decision-making and resilience. And we make books, podcasts and films to share insight and innovation around the world.