An Evening with Boxing Superstar Josh Warrington LIVE & UNSCRIPTED in Mansfield
About this event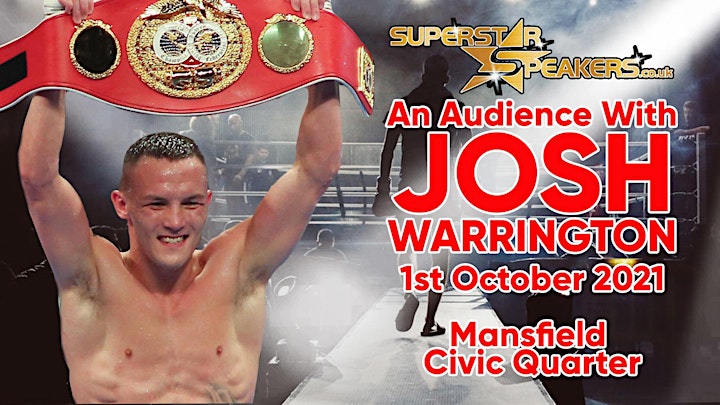 _____________________________________
An Evening with 'Josh Warrington'
Superstar Speakers Events Ltd for the FIRST TIME EVER bring to The Civic Quarter Mansfield, 'Josh Warrington' for an exclusive 'Evening with' event in 2021
This exclusive show will see a LIVE and UNSCRIPTED interview with Josh Warrington, reminiscing about those glorious boxing memories old and new and get an real life insight to one of the best fighters to ever light up the boxing world. Who knows what will happen when Josh Warrington takes the stage to give you his 'off camera' stories.
______________________________
Setting the Superstar Scene.
- Arrive at the venue and check into the VENUE and find your ALLOCATED SEATING
- Enjoy access to the Suites PRIVATE BAR area
- PHOTO OPPORTUNITY* with Josh Warrington
- Be welcomed to the event by our TOP HOST
- Opportunities to win amazing PRIZES at the event
- Super WALK-ON VIDEO showing Josh's greatest ever TV moments
- A LIVE & UNSCRIPTED on-stage interview
- Special Audience Q & A SESSION
- Superstar Speakers Special LIVE AUCTION boasting sporting greats of past and present
- Full BAR and MERCHANDISE STORE access
______________________________
Getting the Superstar Tickets.
Superstar PLATINUM Package (50 maximum)
Includes: Meet & Greet Session inc. Signature and Photograph with Josh Warrington
- 6.30pm early access to enjoy a private Platinum guests ONLY Meet & Greet session with Josh Warrington (30 minutes)
- Receive an autograph from Josh Warrington on your own item. (No belts or paintings)
- Professionally taken 6x9 photograph of you and Josh Warrington which will be developed on the night ready to take away and made available digitally after the show at our Facebook page
- Platinum section allocated seating (Best seats of the house)
Superstar GOLD Package
Includes: Photograph with Josh Warrington
- 7pm Entry
- Professionally taken photograph opportunity (incurs fee) of you and Josh Warrington which will be developed on the night ready to take away and made available digitally after the show at our Facebook page.
- GOLD section allocated show seating
______________________________
Adopting the Superstar Style.
Dress Code: Smart - (No sportswear, trainers, football tops)
If you are unsure of this dress code please search google for a description. You WILL be refused entry if you are not wearing the correct Dress Code.
_____________________________
Vetting the Superstar terms.
VAT: VAT is included in the price and VAT receipts can be produced upon request
REFUNDS: A full refund will be issued only if the event is cancelled and not if rescheduled. Tickets may not be exchanged, refunded or re-sold
Refund policy if the event is cancelled due to the COVID-19: A person gets notified about the cancellation of any event. A person will receive their refund automatically through the same method of payment used to complete your purchase (eg:- If the payment is made using UPI, the money comes back into the UPI account). The refunds are generally delivered within 7-21 business days.
If the event is postponed, we will contact you via phone or email with the information regarding the changes in the time, venue, date, and more. The tickets are valid for the new event date.
BOOKING FEES: If you use Eventbrite to book tickets to this event and it is cancelled, Eventbrite may not refund the booking fees associated to your purchase. You can see a full breakdown of the booking fees upon purchase. You may purchase tickets without paying a booking fee by emailing customerservice@superstarspeakers.co.uk
SPECIAL REQUIREMENTS: It is paramount to Superstar Speakers that everyone fully enjoys this event. If you have ANY special requirements (E.g. Access) please notify us BEFORE the show as we may not be able to accommodate you if told on the night.
SITTING WITH FRIENDS: To ensure you are sat with your friends please book under the same name this will automatically sit you together.
SHOW TIMINGS: In the event of a celebrity late arrival the show timings may alter and Superstar Speakers Events Ltd can not be held responsible for any inconvenience caused. No refunds will be issued.
VENUE: In an highly unlikely event that the venue is changed due to unforeseen circumstances an alternative venue will be found within 10 miles of the original venue and all tickets will remain valid. No refunds will be issued.
SPONSORSHIP ENQUIRIES: Please direct to info@superstarspeakers.co.uk
'OPPORTUNITY': There is a photograph opportunity which means that you can have a photo if you pay a fee on the night.
COMMUNICATION: We love to keep you updated on the event and will contact you via the email you register with. Your tickets will be sent to your email and we will inform you of any changes so please ensure you enter your email correctly and check your 'junkbox'. If you do not receive your tickets after purchase please email customerservice@superstarspeakers.co.uk
ADULT ONLY: This event is strictly rated over 18 only.
UPDATES & INFO: Keep up to date with this show and many more at the Superstar Speakers website.

Organiser of An Evening with Boxing Superstar Josh Warrington - Mansfield
ABOUT SUPERSTAR SPEAKERS
Since 2014, We have hosted 'An evening with' events for A list celebrities, people come from all over the world to meet their idols at our Superstar events and we are passionate about customer experience. Superstar Speakers Events Ltd was built on the idea that when it comes to nights out, you should never have to settle for second best, and that's exactly why we embarked on a journey to become the top and most specialised events team in the nation.
Give us the chance to help make your next night out the best it can be. With LIVE and UNSCRIPTED on stage career and life stories from your favourite celebrities, set in fantastic surroundings, book now and join the event. 30,000+ fans and followers can't be wrong!