An Evening with Cezanne & Friends
Description
As part of 639's month-long BHM exhibition, I will be hosting 'An Evening with Cezanne & Friends' on Friday 25th October 6-9pm.
Join me for a FUN-draising evening where I'll be explaining the Colour Therapy & Symbolism used in my paintings, performing a few poems from my CD 'Seeds of Love', talking about my novel 'Single, Spiritual…AND Sexual!' and auctioning off any original paintings not already sold!
My goal is to raise at least
£10,000
from the sales of my paintings to pay for the
Marketing Campaign
of my novel and my
Writer's Retreat
to Ghana to write its
sequel
; you can help me reach my target while at the same time helping your Self to a beautiful piece of artwork!
(Prints will be on sale too, starting at just £10!)
I'll also be on hand to take any enquiries regarding the work of sculptor Rudolph Mendoza.
Delicious African/Caribbean food from 639's Blooming Scents cafe will be on sale (around £5), so come straight from work (or leisure!) have a meal and join in the evening's entertainment!
6-7pm: Meal/Networking/Cezanne Explains the Colours & Symbolism in her Paintings
7-8pm: Cezanne Talks about her Self-help Novel/Auctioning of Paintings
8-9pm: Live Performances from Cezanne & Friends
Tickets to this event are by donation which will go towards paying the performers; Wadada (saxophonist), Asabi (Singer/Spoken Word Artist/Guitarist), Theo Calliste (guitarist on the 'Seeds of Love' CD) Kent (djembe drummer) and my Self! Due to limited seating capacity there are only 50 tickets available, so book early to avoid disappointment (£5 minimum donation suggested)
Register by Wednesday 23rd October the latest (especially if you're planning on having a meal!)
I look forward to seeing you there!
Cezanne (Artist/Poetess/Author)
For more information about my paintings visit the Art Page of my blog)
P.S. If you are unable to attend this event, don't like my art, think my book stinks but would like to contribute towards my Writer's Retreat anyway, please do!
Organiser of An Evening with Cezanne & Friends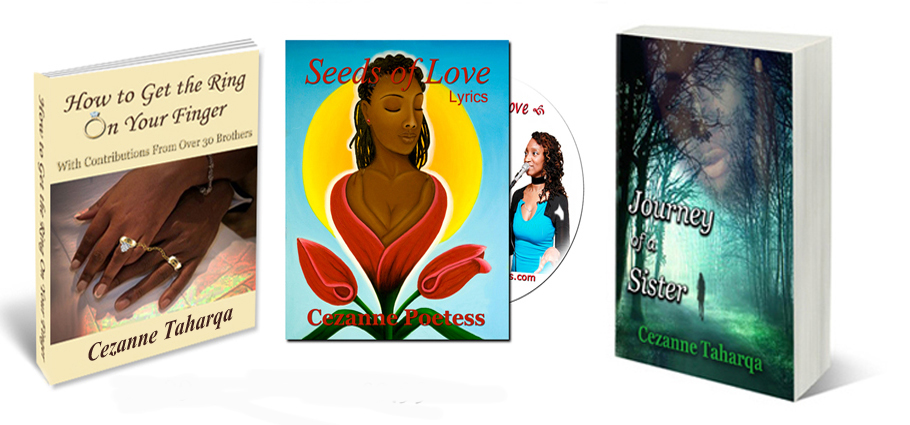 Cezanne is an Award-winning Visual & Spoken Word Artist, Blogger, and Author of the Self-help romance novel 'Journey of a Sister' and its sister-book 'How to Get the Ring On Your Finger'.  In 2014,Cezanne won the title 'International Artist of the Year' in the Spokenword Billboard Awards (USA) for her first collection 'Seeds of Love'  (all 13 poems feature in her novel), which comes with a Book of Lyrics.
Cezanne is an Inspirational Thought Leader in her fields of Poetry, Art & Literature; she uses her poetry and art to illustrate her books, which are creative expressions of her own spiritual journey and personal development.  Her motto is "As I heal my Self, I heal others."
Cezanne hosts Books Signing & Discussion Events where the topics raised in her Self-help books are discussed openly.  She is also organizer of the Kings & Queens Book Tour, taking place 1-8 October 2017 - she will be hosting and also performing at some of the events!
To read Cezanne's weekly blog posts visit www.journeyofasister.com
 Cezanne is pronounced Sh-e (as in elephant)-z-ann