Description
Award winning, triple round the world Yachtsman and speaker, Conrad Humphreys will be hosting an evening in aid of the Infinity programme.
The Infinity programme is one of the most ambitious youth development programmes in the world, a multi-year mixed expedition programme across land and sea - for young people with disabilities or facing disadvantage. Led in partnership between British Exploring Society and Jubilee Sailing Trust, who between them have over 125 years of experience of creating and delivering personal development through adventure.
"It was life changing! I used to be so anxious, I didn't want to even leave the house, now I feel like I can do absolutely anything"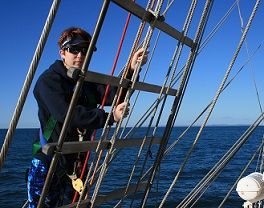 Roesie, 17, who went on the pilot expedition in Nov 18, who is visually impaired.
Events details:
12th September 2019, 7-9pm
One Vine Street, London, W1J 0AH
Dress: Business/Casual

Book online here or contact: Jess@britishexploring.org or 020 75913142
Amber.fisher@jst,org.uk or 02380 449108
Please consider a donation when booking.
Here is how your donation could help:
£5000 could fund a young person with disabilities to take part in a programme, helping to build their confidence, resilience and life-skills - to help build their future.
£1345 could pay for first aid kits, specialist medical equipment and all medical supplies for an entire programme
£1000 would make you a Patron of British Exploring Society and could fund Personal Protective Equipment for 16 young people with disabilities
£516 could pay for an Audio recorder to ensure 4 young people with visual impairment can record their experiences
£100 could pay for a microscope as young people undertake a massive survey of marine life
£50 could pay for a rucksack, fleece, sleeping bag and sleeping mat for one young person
£30 could pay for metal funnels and buckets to help with multiple science projects that will take place during the programme.