How To Academy presents... An Evening With Elif Shafak – The Island of Missing Trees
About this event
Join the prizewinning, bestselling author for a rich, magical tale of belonging and identity, memory and amnesia, destruction and renewal.
Elif Shafak is a storyteller alive to the possibilities of another world. Her imagination encompasses not only the drama of the human heart and the fragility of human relationships, but the most expansive questions of history and identity, of how we live and create, and whose pluralistic, humanitarian political convictions – bolstered by her training and teaching as a political scientist – have made her the nemesis of censors and strongmen.
Her new novel – already a Sunday Times top ten bestseller - transports us back to Cyprus in 1974: a divided nation on the eve of war…
Two teenagers, from opposite sides of a divided land, meet at a tavern in the city they both call home. The tavern is the only place that Kostas, who is Greek and Christian, and Defne, who is Turkish and Muslim, can meet, in secret, hidden beneath the blackened beams from which hang garlands of garlic, chilli peppers and wild herbs. This is where one can find the best food in town, the best music, the best wine. But there is something else to the place: it makes one forget, even if for just a few hours, the world outside and its immoderate sorrows.
In the centre of the tavern, growing through a cavity in the roof, is a fig tree. This tree will witness their hushed, happy meetings, their silent, surreptitious departures; and the tree will be there when the war breaks out, when the capital is reduced to rubble, when the teenagers vanish and break apart.
Don't miss this chance to hear from 'a unique and powerful voice in world literature' (Ian McEwan).
Praise for Elif Shafak's The Island of Missing Trees:
'A brilliant novel -- one that rings with Shafak's characteristic compassion for the overlooked and the under-loved, for those whom history has exiled, excluded or separated. I know it will move many readers around the world, as it moved me' Robert Macfarlane
'A wonderfully transporting and magical novel that is, at the same time, revelatory about recent history and the natural world and quietly profound' William Boyd
'This is an enchanting, compassionate and wise novel and storytelling at its most sublime' Polly Samson
'A wise novel of love and grief, roots and branches, displacement and home, faith and belief. The Island of the Missing Trees is balm for our bruised times' David Mitchell
'An outstanding work of breathtaking beauty' Lemn Sissay
'A writer of important, beautiful, painful, truthful novels' Marian Keyes
Elif Shafak is an award-winning British-Turkish novelist. She has published seventeen books, eleven of which are novels, and her work has been translated into fifty languages. Her novel 10 Minutes 38 Seconds in this Strange World was shortlisted for the Booker Prize. Shafak holds a PhD in political science and she has taught at various universities in Turkey, the US and the UK, including St Anne's College, Oxford University. She is a member of World Economic Forum Global Agenda Council on Creative Economy and a founding member of the European Council on Foreign Relations (ECFR). A member of the Royal Society of Literature, Shafak has judged numerous literary prizes, and chaired the Wellcome Prize.
Matthew Stadlen is a broadcaster, writer and regular How To Academy host. Previously he was an LBC presenter, wrote The Matthew Stadlen Interview for the Telegraph and presented the TV series Five Minutes With and On The Road With for the BBC. He is a birdwatcher and photographer, and his book How To See Birds is out now. Twitter: @matthewstadlen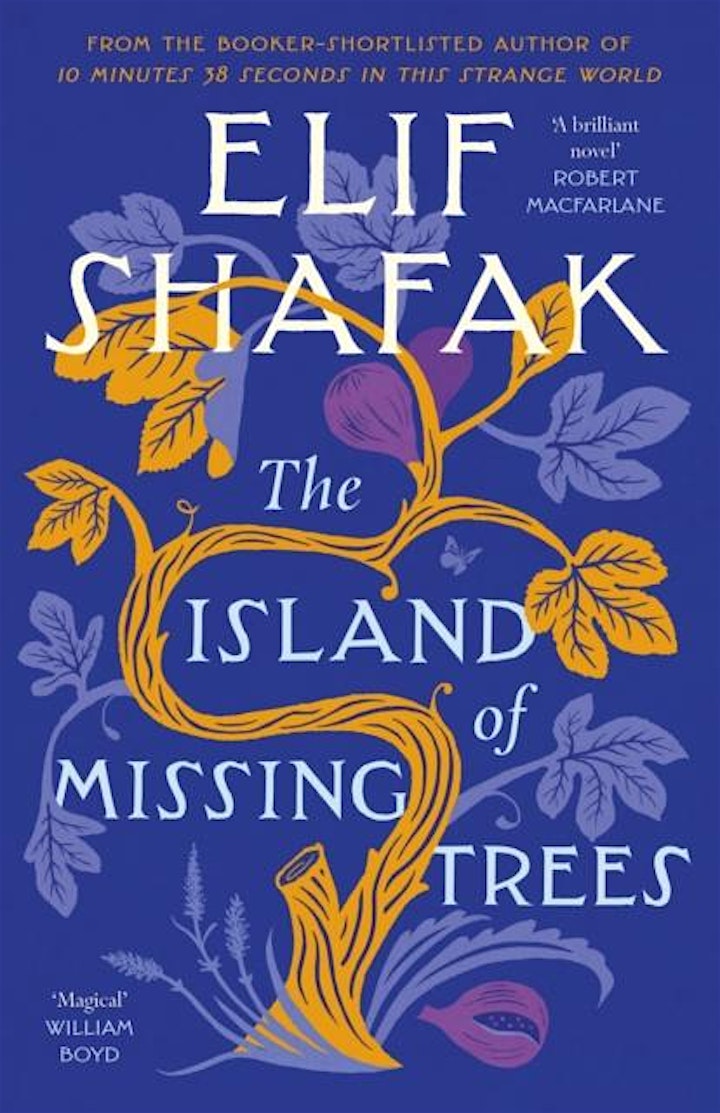 Organizer of An Evening With Elif Shafak – The Island of Missing Trees
How To Academy is an organisation for people who think big. From Nobel laureates to Pulitzer Prize winners, we invite the world's most influential voices to London to share new ideas for changing ourselves, our communities, and the world. 
We host leading artists and thinkers in an unrivalled programme of public talks, debates and conferences – from Yuval Noah Harari to Natalie Portman, Emma Watson to Eric Schmidt.
We help businesses discover transformative new strategies, anticipate the future, and inspire their staff with keynotes and workshops by internationally-acclaimed economists, psychologists, politicians, and thought leaders. 
We offer masterclasses live and online with experts in essential twenty-first century skills, like leadership, public-speaking, decision-making and resilience. And we make books, podcasts and films to share insight and innovation around the world.