Location
Heffers Bookshop
20 Trinity Street
Cambridge
CB2 1TY
United Kingdom
Description
We are delighted to welcome Elly Griffiths back to Cambridge. The 2016 winner of the CWA Dagger in the Library will speak on her new standalone gothic thriller, THE STRANGER DIARIES.
Clare Cassidy is no stranger to murder. As a literature teacher specialising in the Gothic writer RM Holland, she teaches a short course on it every year. Then Clare's life and work collide tragically when one of her colleagues is found dead, a line from an RM Holland story by her body. The investigating police detective is convinced the writer's works somehow hold the key to the case.
Not knowing who to trust, and afraid that the killer is someone she knows, Clare confides her darkest suspicions and fears about the case to her journal. Then one day she notices some other writing in the diary. Writing that isn't hers...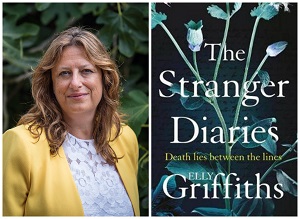 Elly Griffiths was born in London. She worked in publishing before becoming a full-time writer. Her bestselling series of Dr Ruth Galloway novels, featuring a forensic archaeologist, are set in Norfolk. The series has won the CWA Dagger in the Library, and has been shortlisted three times for the Theakston's Old Peculier Crime Novel of the Year. Her Stephens and Mephisto series is based in 1950s Brighton.

Tickets for the event are priced at £8 in advance (£10 on the door) and can be purchased through this page, by calling 01223 463200 or in person at Heffers bookshop. Please note that tickets are transferable but non-refundable. To purchase a ticket with a copy of the book included, please click here.
If you are unable to attend but would like to request a signed copy of The Stranger Diaries, please send an email via the 'contact' button on this page.