Sales Have Ended
Ticket sales have ended
See you at the TAM! If you have not gotten your tickets yet, DM us on our Instagram @TempleArtMusic to check with us or simply come to TAM@MM E&C and buy your tickets at the door! P.S. Tickets are available at the Door from 6pm daily! x Follow and tag us in videos and photos taken during the event so we can help to promote and support the artists further! Our Facebook and Instagram: @TempleArtMusic Check our calendar of events here: https://www.eventbrite.co.uk/o/temple-of-art-and-music-33409225909 Cheers TAM team
Sales Have Ended
Ticket sales have ended
See you at the TAM! If you have not gotten your tickets yet, DM us on our Instagram @TempleArtMusic to check with us or simply come to TAM@MM E&C and buy your tickets at the door! P.S. Tickets are available at the Door from 6pm daily! x Follow and tag us in videos and photos taken during the event so we can help to promote and support the artists further! Our Facebook and Instagram: @TempleArtMusic Check our calendar of events here: https://www.eventbrite.co.uk/o/temple-of-art-and-music-33409225909 Cheers TAM team
Don't miss this exciting event at TAM: a live performance from Keith West and book signing of his official biography.
About this event
Legendary lead singer, songwriter and front man of several ground-breaking bands including the 60's seminal band Tomorrow which received such fulsome acclaim; Tomorrow and Keith West were at the forefront of the psychedelic rock movement along with Pink Floyd and Soft Machine.
After the demise of Tomorrow, Keith went on to have a huge career as a solo artist selling over 10 million records and winning an Ivor Novello award for song writing. His album "Wherever My Love Goes", featured writing partner Ken Burgess and steel guitarist Glen Ross Campbell (ex - The Misunderstood) with Andrew Oldham producing two of the tracks. By the mid 1970's Keith became the lead singer of Moondance, which featured John Welder (ex - Family), Chico Greenwood, (later to perform with Murray Head) and Bruce Thomas.
In between producing and recording music Keith returned triumphantly to live performances with his new band in 2017 playing a stylish repertoire of blues, soul and rock as well as original and classic songs with a twist.
The hugely talented line-up for this special show at the TAM features Keith West, lead vocals and guitar; lead guitarist and vocalist Cameron Murray; Martin Costello on bass and vocals; and Bill Slattery on drums.
What's more, Dino Baptiste will kick off the evening with some Blues, Boogie Woogie and Rock'n Roll piano playing and dynamic vocal.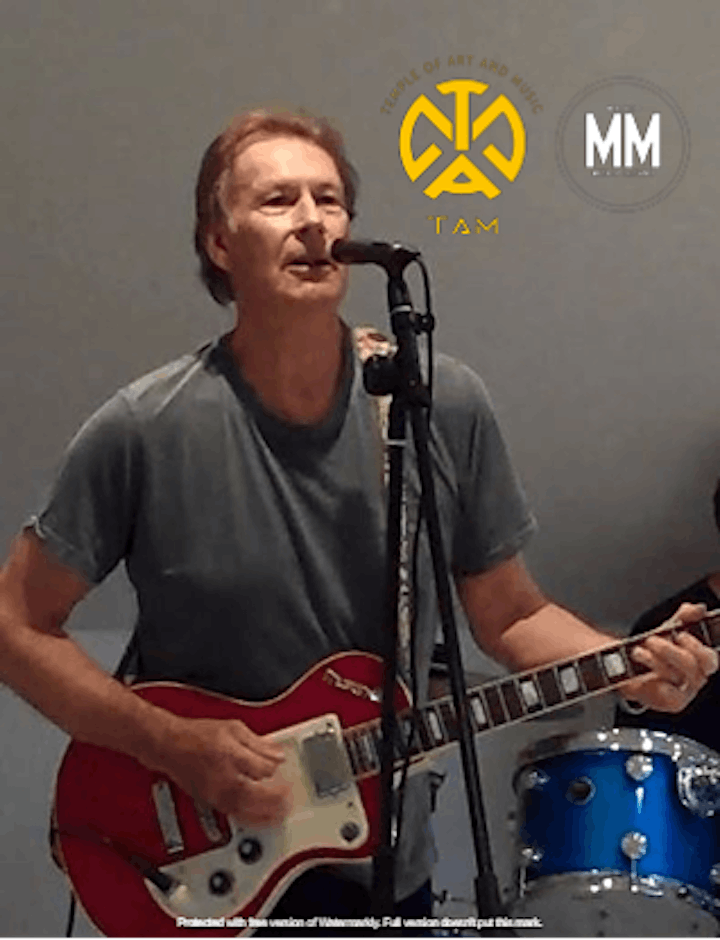 ~~~~~
Your ticket allows you to skip the queue into the Mercato Metropolitano so you can be comfortably seated in the Theatre (TAM) and order any food & drinks from our Bar.
Come early for dinner. Only food and drink from TAM Bar is allowed. We partner with most vendors in the Mercato to bring you freshly made, wholesome nutritious food. (Menu on IG @ TempleArtMusic)
Your support at the TAM Bar is greatly appreciated - proceeds go into supporting TAM operations, our musicians and artists, and keeping the arts and music alive at our venue.
Date: 16 October 2021
Time: 7:00pm - 9:30pm
Venue: TAM @ Mercato Metropolitano
Address: 42 Newington Causeway, London SE1 6DR, United Kingdom
Tickets: FREE (guaranteed entry until 8pm) or £9 with 1 drink
Nearest Tube: Elephant & Castle
Parking: Available
Doors open at 6:30pm.
Follow and tag us in videos and photos taken during the event so we can help to promote and support the artists further!
Our Facebook and Instagram: @TempleArtMusic
DM us if you have any questions. See you at the TAM x
Disclaimer: Theatrery (TAM) is entitled to make any changes to an event as it deems reasonable and necessary, including changes to speakers, performers, location, and other such matters.