How To Academy presents...An Evening With Mark Cousins | In Conversation With Matthew Stadlen
About this event
Join the legendary writer and filmmaker as he explores the art and science of looking – from cityscapes to cinema, photography to art. You'll never see things the same way again.
A filmmaker whose passion for the history of cinema has brought him renown across the globe, Mark Cousins is no stranger to the art and science of how we see the world. But how has the nature of looking changed through the centuries? From photography to cinema to television to the invention of the selfie, how has our visual world been enhanced by technology, and what does this tell us about who we are?
Exploring the rich history of visual culture, from the universal impulse of camera-totting tourists to say "Look where I am!" to the moral panic inspired by smart phones, Mark will take us on a tour of the many ways we see the world – and are transformed by it.
Looking can be an act of empathy or aggression. It can provoke desire or express it. And from the blurry, edgeless world we inhabit as infants to the landscape of screens we grow into, looking can define us.
Praise for Mark Cousins' The Story of Looking:
"A wide-ranging history of looking . . . you will gaze at it in wonder" ― Guardian
"A history of the human gaze . . . Illuminating . . . Roams freely across history, art, film, photography, science and technology . . . Indispensable as a reference book" ― Observer
"Intriguing and beautiful . . . [A] gloriously haphazard intellectual scrapbook . . . Wide-ranging, deep-seeing and clever" ― Scotland on Sunday
"An attempt to catalogue how and why we look, what we look at and how our social and cultural surroundings shape what we see . . . the result is, by turns, learned, often surprising . . . Fascinating" ― Glasgow Sunday Herald, Arts Books of the Year
"Brilliant . . . His taste is eclectic and his judgments precise and persuasive" ― New York Times
"Extraordinary . . . Visually ensnaring and intellectually lithe" ― Telegraph on The Story of Film
"Dazzling in its breadth and intelligence . . . A hugely impressive work by a uniquely talented storyteller" ― Guardian on A Story of Children and Film
Mark Cousins is an Irish-Scottish director and writer. His films – including The First Movie and The Story of Film: An Odyssey – have premiered in Cannes, Berlin, Sundance and Venice film festivals and have won the Prix Italia, a Peabody, the Stanley Kubrick Award, the European Film Award for Innovative Storytelling, and many other prizes. He has filmed in Iraq, Sarajevo during the siege, Iran, across Asia and in America in Europe. He has honorary doctorates from the Universities of Edinburgh and Stirling.
Matthew Stadlen is a broadcaster, writer and regular How To Academy host. Previously he was an LBC presenter, wrote The Matthew Stadlen Interview for the Telegraph and presented the TV series Five Minutes With and On The Road With for the BBC. He is a birdwatcher and photographer, and his book How To See Birds is out now. Twitter: @matthewstadlen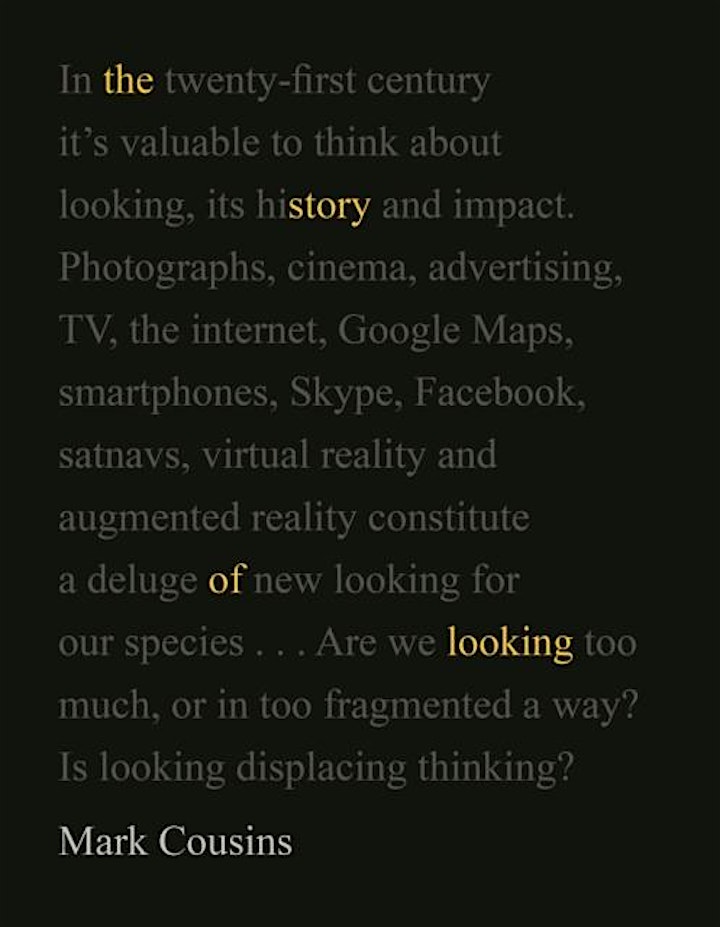 Organizer of An Evening With Mark Cousins
How To Academy is an organisation for people who think big. From Nobel laureates to Pulitzer Prize winners, we invite the world's most influential voices to London to share new ideas for changing ourselves, our communities, and the world. 
We host leading artists and thinkers in an unrivalled programme of public talks, debates and conferences – from Yuval Noah Harari to Natalie Portman, Emma Watson to Eric Schmidt.
We help businesses discover transformative new strategies, anticipate the future, and inspire their staff with keynotes and workshops by internationally-acclaimed economists, psychologists, politicians, and thought leaders. 
We offer masterclasses live and online with experts in essential twenty-first century skills, like leadership, public-speaking, decision-making and resilience. And we make books, podcasts and films to share insight and innovation around the world.